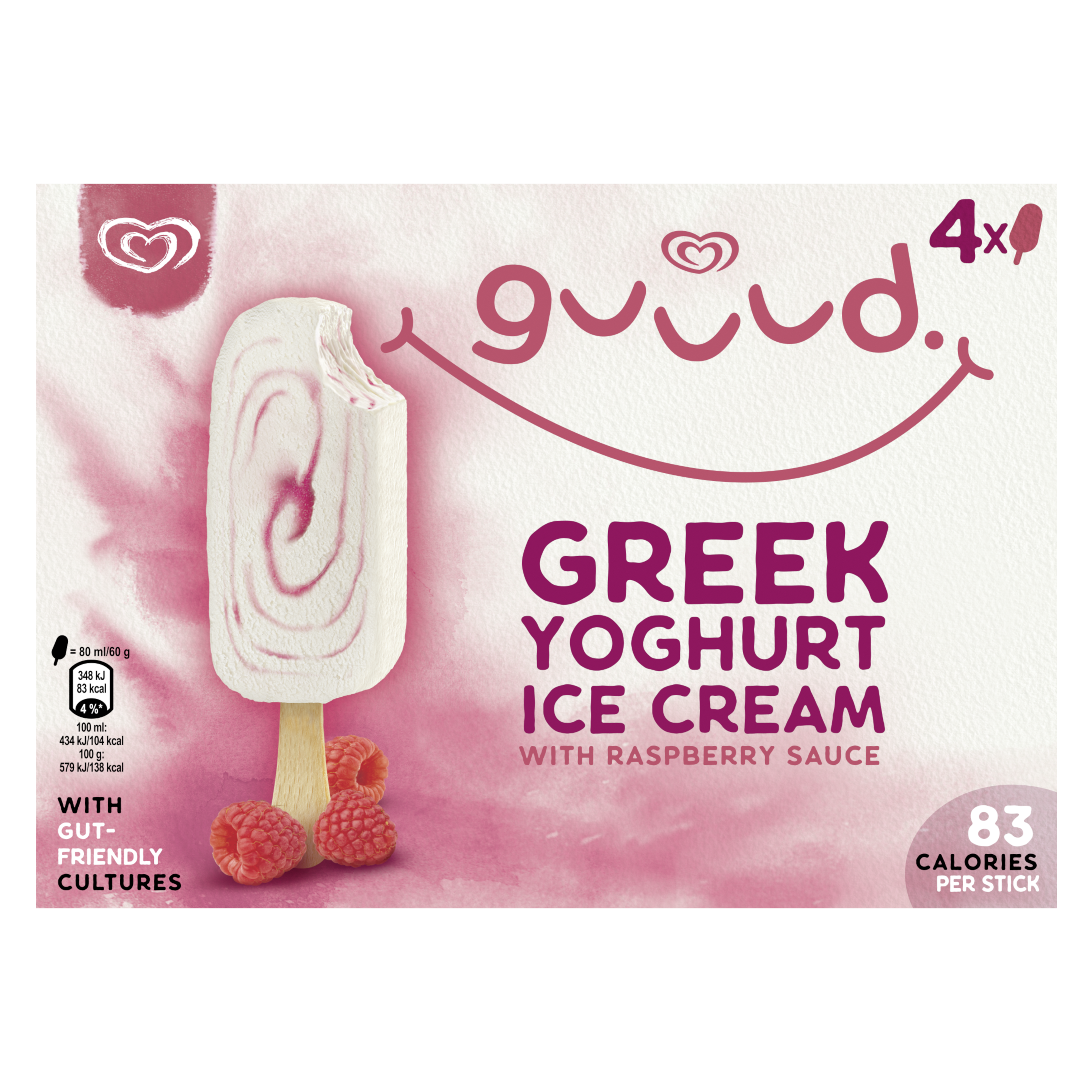 Guuud Raspberry Greek Yoghurt 4MP 
Guuud Greek Yoghurt ice cream with Raspberry sauce is a delicious and indulgent frozen dessert that contains gut-friendly cultures and combines a rich and creamy texture with a luscious raspberry sauce, containing only 83 calories per ice cream stick.
Ingredients

Nutrition
Ice cream: (Reconstituted skimmed MILK, fat free strained Greek yoghurt (30%) ((skimmed MILK, condensed skimmed MILK, MILK protein, yoghurt culture)), water, sugar, dextrose, butter (MILK), glucose syrup, maltodextrin, emulsifier (mono- and diglycerides of fatty acids), stabilisers (locust bean gum, guar gum), acidity regulator (citric acid), natural flavouring). Water ice coating: (Water, sugar, glucose syrup, stabilisers (pectin, carrageenan)). Raspberry sauce: (Glucose-fructose syrup, raspberries (25%), sugar, water, modified starch, caramelised sugar syrup, acidity regulator (citric acid), thickeners (pectins, locust bean gum), carrot concentrate, natural flavouring). May contain: egg, almond, hazelnut, pecan and pistachio.
Milk and its derivates, Eggs and their derivates, Nuts and their derivates 
Serving size: 
Serving per container: 
| | Per 100g | Per 100ml | Per Portion* | %**Per Portion* |
| --- | --- | --- | --- | --- |
| ENER-KJ | 579 kJ | 434 kJ | 348 kJ | 4% |
| Protein | 2.7 g | 2 g | 1.6 g | 3% |
| Salt | 0.14 g | 0.11 g | 0.09 g | 2% |
| Carbohydrates | 24 g | 18 g | 14 g | 5% |
| Fat | 3.5 g | 2.6 g | 2.1 g | 3% |
| Energy | 138 kcal | 104 kcal | 83 kcal | 4% |
| FASAT | 2.3 g | 1.7 g | 1.4 g | 7% |
| .....of which sugars | 21 g | 16 g | 13 g | 14% |
| ENER-COMBINED | 138 kcal / 579 kJ | 104 kcal / 434 kJ | 83 kcal / 348 kJ | 4% |