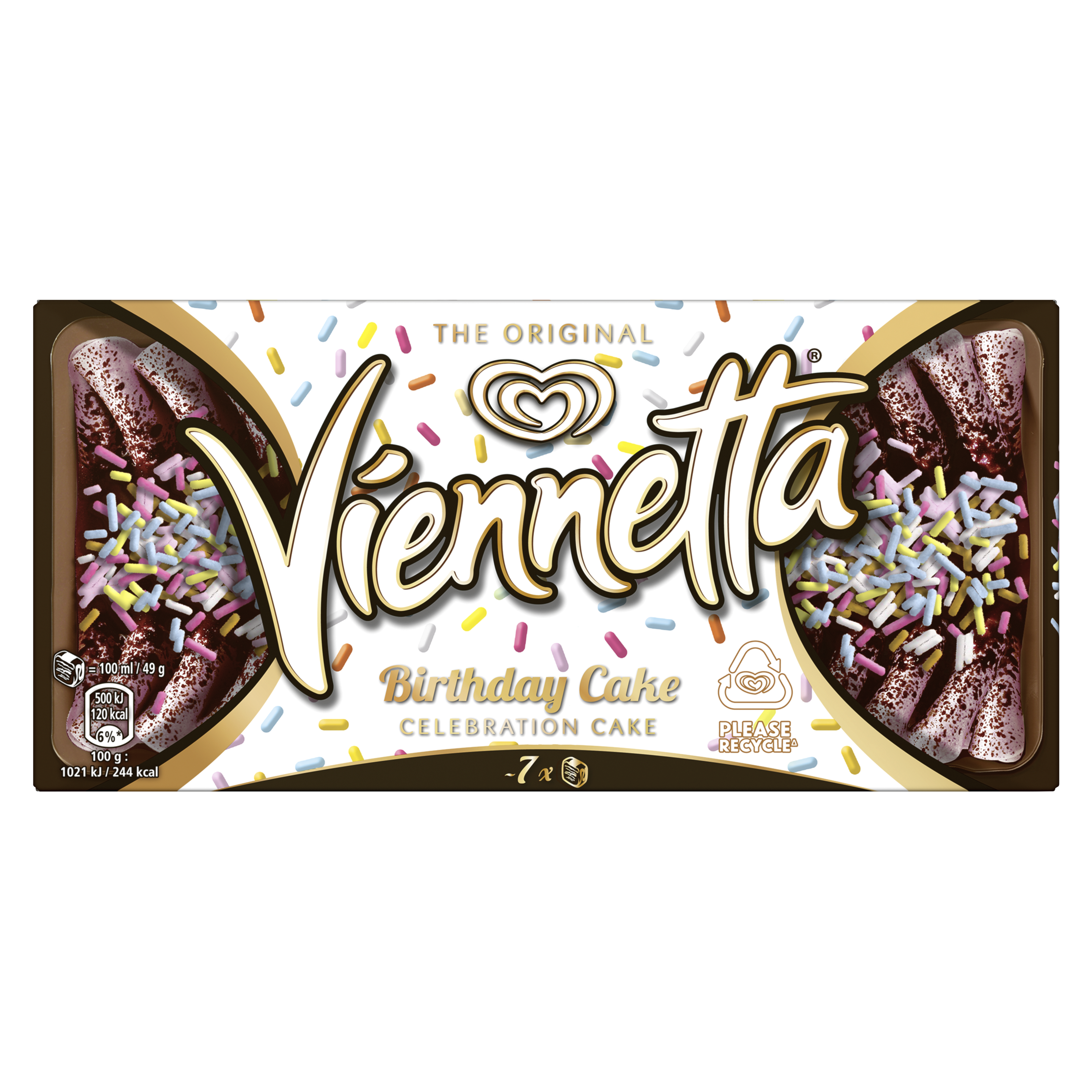 Viennetta Birthday Cake 650ml 
Delicious layers of vanilla and strawberry flavour ice cream between crisp chocolate flavour layers, topped with multi-coloured sprinkles. The perfect family treat to celebrate 100 years of Wall's ice cream!
Ingredients

Nutrition
Reconstituted skimmed MILK, coconut fat, glucose-fructose syrup, sugar, glucose syrup, water, fat-reduced cocoa powder, whey solids (MILK), emulsifiers (mono- and diglycerides of fatty acids, ammonium phosphatides), stabilisers (carrageenan, guar gum, locust bean gum, acacia gum), WHEAT starch, acidity regulator (citric acid), beetroot juice concentrate, modified corn starch, natural vanilla flavouring, natural flavouring, colour (carotenes), sugar syrup, safflower concentrate, blackcurrant concentrate, lemon concentrate, radish juice concentrate, apple juice concentrate, spirulina concentrate.
Cereals containing gluten and their derivates, Wheat and its derivates, Milk and its derivates 
Serving size: 
Serving per container: 
| | Per 100g | Per 100ml | Per Portion* | %**Per Portion* |
| --- | --- | --- | --- | --- |
| Energy | 244 kcal | 120 kcal | 120 kcal | 6% |
| .....of which sugars | 20 g | 10 g | 10 g | 11% |
| Carbohydrates | 27 g | 13 g | 13 g | 5% |
| Protein | 2.1 g | 1 g | 1 g | 2% |
| FASAT | 12 g | 5.9 g | 5.9 g | 30% |
| Salt | 0.08 g | 0.04 g | 0.04 g | 1% |
| Fat | 14 g | 6.7 g | 6.7 g | 10% |
| ENER-KJ | 1021 kJ | 500 kJ | 500 kJ | 6% |
| ENER-COMBINED | 244 kcal / 1021 kJ | 120 kcal / 500 kJ | 120 kcal / 500 kJ | 6% |