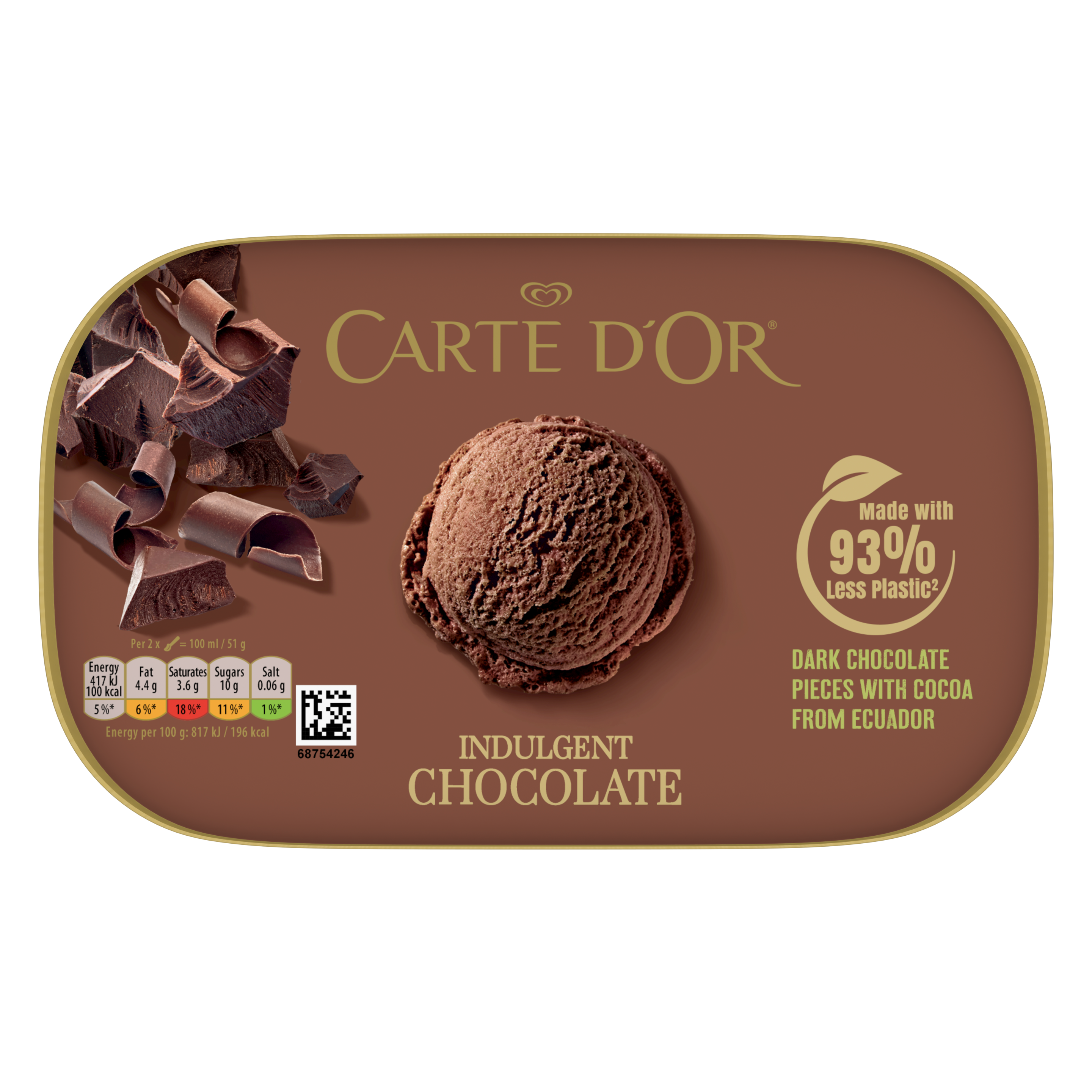 Carte D'Or Indulgent Chocolate 900ml 
Rich chocolate ice cream combined with indulgent 70% cocoa dark chocolate pieces, made with Rainforest Alliance certified cocoa from Ecuador.
Ingredients

Nutrition
Reconstituted skimmed MILK, sugar, glucose-fructose syrup, coconut fat, fat-reduced cocoa powder¹, cocoa mass¹, glucose syrup, skimmed MILK powder or concentrate, whey solids (MILK), emulsifiers (mono- and diglycerides of fatty acids, ammonium phosphatides), stabilisers (guar gum, tara gum, locust bean gum). May contain: wheat and nuts. ¹Rainforest Alliance Certified.
Wheat and its derivates, Milk and its derivates, Cereals containing gluten and their derivates, Nuts and their derivates 
Serving size: 
Serving per container: 
| | Per 100g | Per 100ml | Per Portion* | %**Per Portion* |
| --- | --- | --- | --- | --- |
| Fat | 8.7 g | 4.4 g | 4.4 g | 6% |
| Energy | 196 kcal | 100 kcal | 100 kcal | 5% |
| ENER-KJ | 817 kJ | 417 kJ | 417 kJ | 5% |
| Carbohydrates | 24 g | 12 g | 12 g | 5% |
| FASAT | 7.1 g | 3.6 g | 3.6 g | 18% |
| Protein | 4 g | 2 g | 2 g | 4% |
| .....of which sugars | 20 g | 10 g | 10 g | 11% |
| Salt | 0.11 g | 0.06 g | 0.06 g | 1% |
| ENER-COMBINED | 196 kcal / 817 kJ | 100 kcal / 417 kJ | 100 kcal / 417 kJ | 5% |