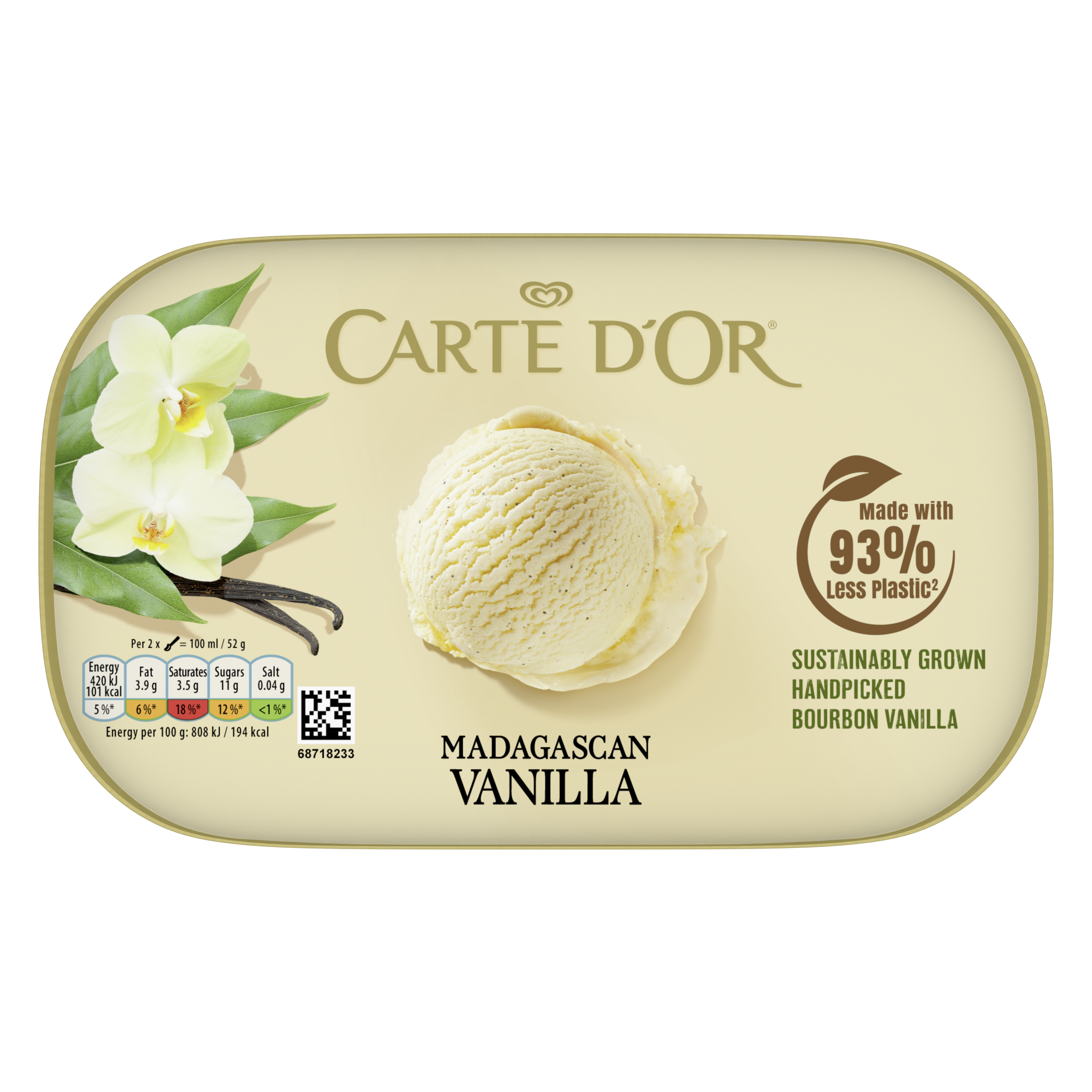 Carte D'Or Madagascan Vanilla 900ml 
Vanilla at its best. Irresistibly smooth Vanilla ice cream made with hand picked and sustainably grown vanilla from the Sava region of Madagscar, for a delicious, authentic taste.
Ingredients

Nutrition
Reconstituted skimmed MILK, sugar, glucose syrup, coconut fat, water, fructose, glucose-fructose syrup, exhausted vanilla bean pieces¹, stabilisers (guar gum, locust bean gum, tara gum), emulsifiers (mono- and diglycerides of fatty acids), natural vanilla flavouring¹, colour (carotenes). ¹Rainforest Alliance Certified. Find out more at ra.org.
Milk and its derivates 
Serving size: 
Serving per container: 
| | Per 100g | Per 100ml | Per Portion* | %**Per Portion* |
| --- | --- | --- | --- | --- |
| Protein | 2.1 g | 1.1 g | 1.1 g | 2% |
| ENER-KJ | 772 kJ | 401 kJ | 401 kJ | 5% |
| .....of which sugars | 19 g | 9.8 g | 9.8 g | 11% |
| Energy | 186 kcal | 97 kcal | 97 kcal | 5% |
| Fat | 7.5 g | 3.9 g | 3.9 g | 6% |
| Salt | 0.08 g | 0.04 g | 0.04 g | 1% |
| FASAT | 6.7 g | 3.5 g | 3.5 g | 18% |
| Carbohydrates | 27 g | 14 g | 14 g | 5% |
| FIBTG | 0.5 g | 0.5 g | 0.5 g | |
| ENER-COMBINED | 186 kcal / 772 kJ | 97 kcal / 401 kJ | 97 kcal / 401 kJ | 5% |