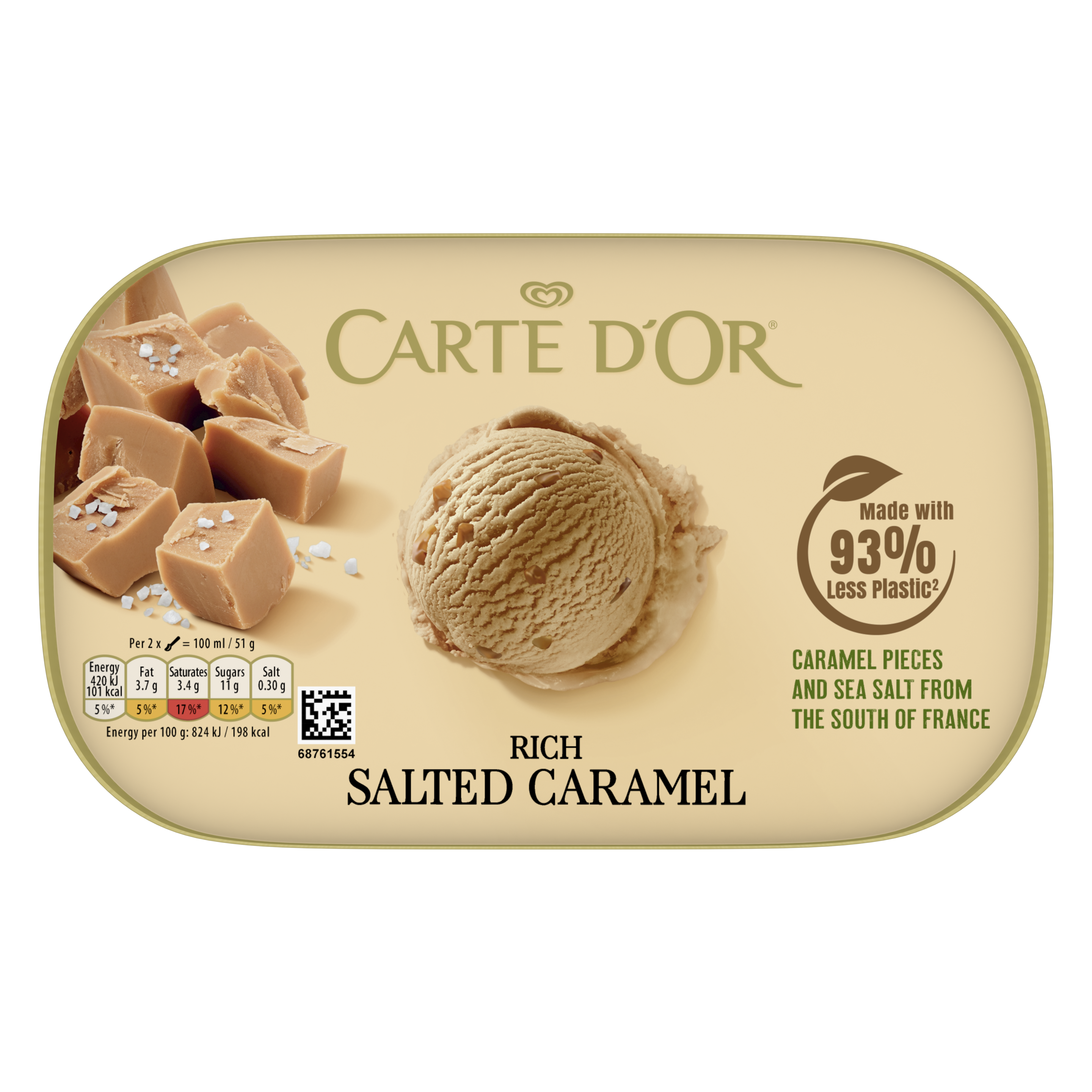 Carte D'Or Rich Salted Caramel 900ml 
Salted Caramel ice cream with rich caramel pieces and flakes of Fleur de sel salt from the Camargue, France - for the perfect pairing of salt and sweet.
Ingredients

Nutrition
Reconstituted skimmed MILK, sugar, coconut fat, caramelised sugar syrup (6%), glucose syrup, glucose-fructose syrup, sweetened condensed skimmed MILK, skimmed MILK powder or concentrate, whey solids (MILK), colour (caustic sulphite caramel), Fleur de Sel de Camargue PGI (sea salt) (0.4%), emulsifier (mono- and diglycerides of fatty acids), butter oil (MILK), stabilisers (guar gum, tara gum, locust bean gum), flavourings, humectant (sorbitol). May contain: nuts and wheat.
Nuts and their derivates, Wheat and its derivates, Almond And Almond Products, Walnut And Walnut Products, Hazelnut And Hazelnut Products, Milk and its derivates, Cereals containing gluten and their derivates 
Serving size: 
Serving per container: 
| | Per 100g | Per 100ml | Per Portion* | %**Per Portion* |
| --- | --- | --- | --- | --- |
| Salt | 0.58 g | 0.3 g | 0.3 g | 5% |
| Protein | 3 g | 1.5 g | 1.5 g | 3% |
| Fat | 7.3 g | 3.7 g | 3.7 g | 5% |
| ENER-KJ | 824 kJ | 420 kJ | 420 kJ | 5% |
| .....of which sugars | 22 g | 11 g | 11 g | 12% |
| Carbohydrates | 29 g | 15 g | 15 g | 6% |
| FASAT | 6.6 g | 3.4 g | 3.4 g | 17% |
| Energy | 198 kcal | 101 kcal | 101 kcal | 5% |
| ENER-COMBINED | 198 kcal / 824 kJ | 101 kcal / 420 kJ | 101 kcal / 420 kJ | 5% |