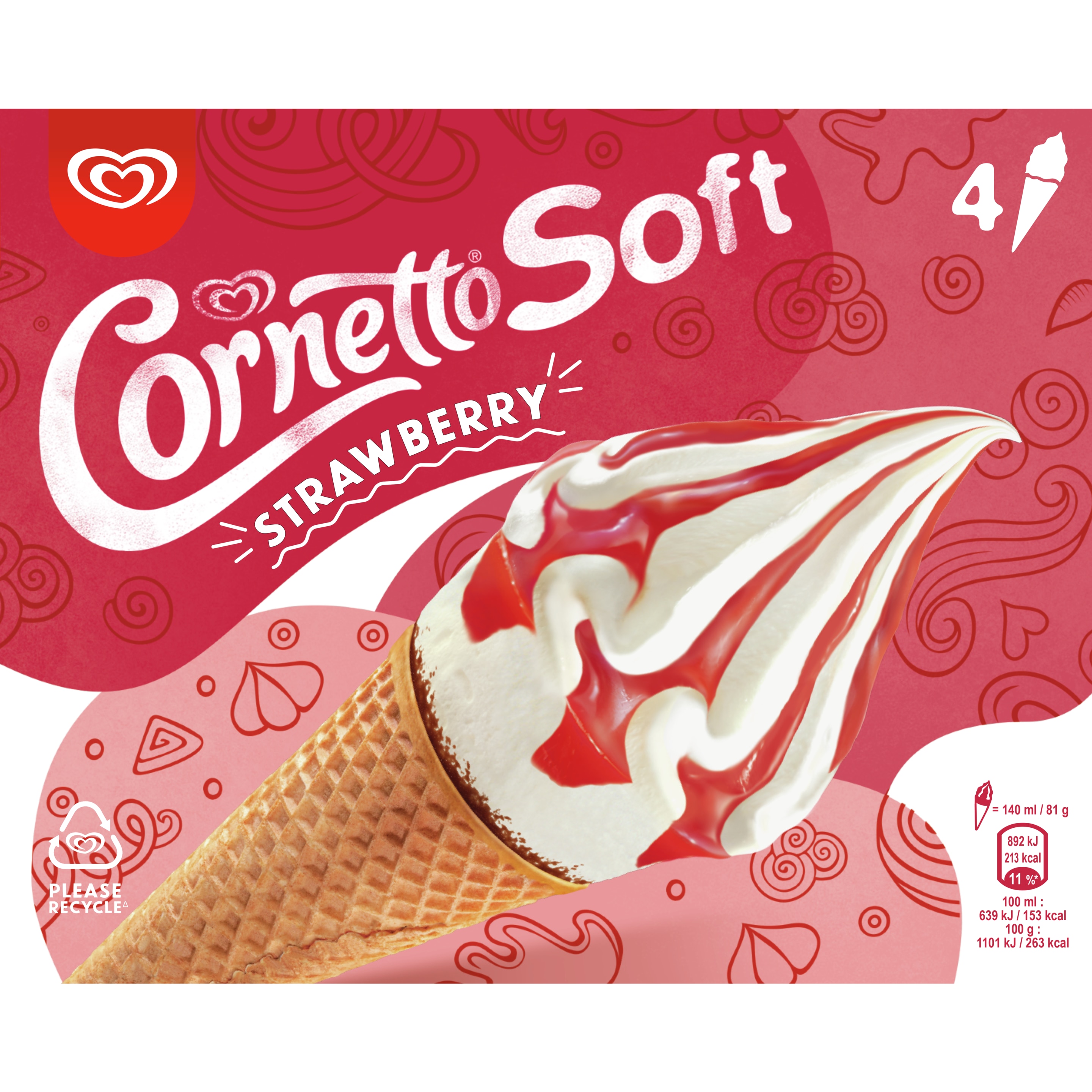 Cornetto Soft Strawberry 4MP 
New Cornetto Soft Strawberry is a softer, smoother version of Cornetto vanilla ice cream topped with an exciting strawberry flavour sauce in a wafer cone with a chocolate flavour tip! For over 50 years we've been perfecting our Cornetto recipe, making sure the taste of every Cornetto ice cream is better than the last. Made without artificial colours and flavourings, this softer and larger Cornetto ice cream cone will delight your taste buds.
Ingredients

Nutrition
Reconstituted skimmed MILK, sugar, coconut fat, WHEAT flour, dextrose, glucose-fructose syrup, fructose, soluble gluco fibre, strawberry juice from concentrate (2.7%), sunflower oil, glucose syrup, strawberry puree (1%), skimmed MILK powder or concentrate, water, fat-reduced cocoa powder, emulsifiers (mono- and diglycerides of fatty acids, lecithins, ammonium phosphatides), potato starch, stabilisers (guar gum, locust bean gum, tara gum), salt, flavourings, caramelised sugar syrup, acidity regulator (citric acid), beetroot juice concentrate. May contain hazelnut and soy.
Wheat and its derivates, Milk and its derivates, Cereals containing gluten and their derivates, Hazelnut And Hazelnut Products, Soybeans and their derivates 
Serving size: 
Serving per container: 
| | Per 100g | Per Portion* | %**Per Portion* |
| --- | --- | --- | --- |
| Fat | 11 g | 9.1 g | 13% |
| Protein | 2.7 g | 2.2 g | 4% |
| Carbohydrates | 36 g | 29 g | 11% |
| ENER-KJ | 1102 kJ | 892 kJ | 11% |
| .....of which sugars | 27 g | 22 g | 24% |
| Energy | 264 kcal | 213 kcal | 11% |
| FASAT | 9.5 g | 7.7 g | 39% |
| Salt | 0.2 g | 0.16 g | 3% |
| FIBTG | 2.8 g | 2.3 g | |
| ENER-COMBINED | 264 kcal / 1102 kJ | 213 kcal / 892 kJ | 11% |