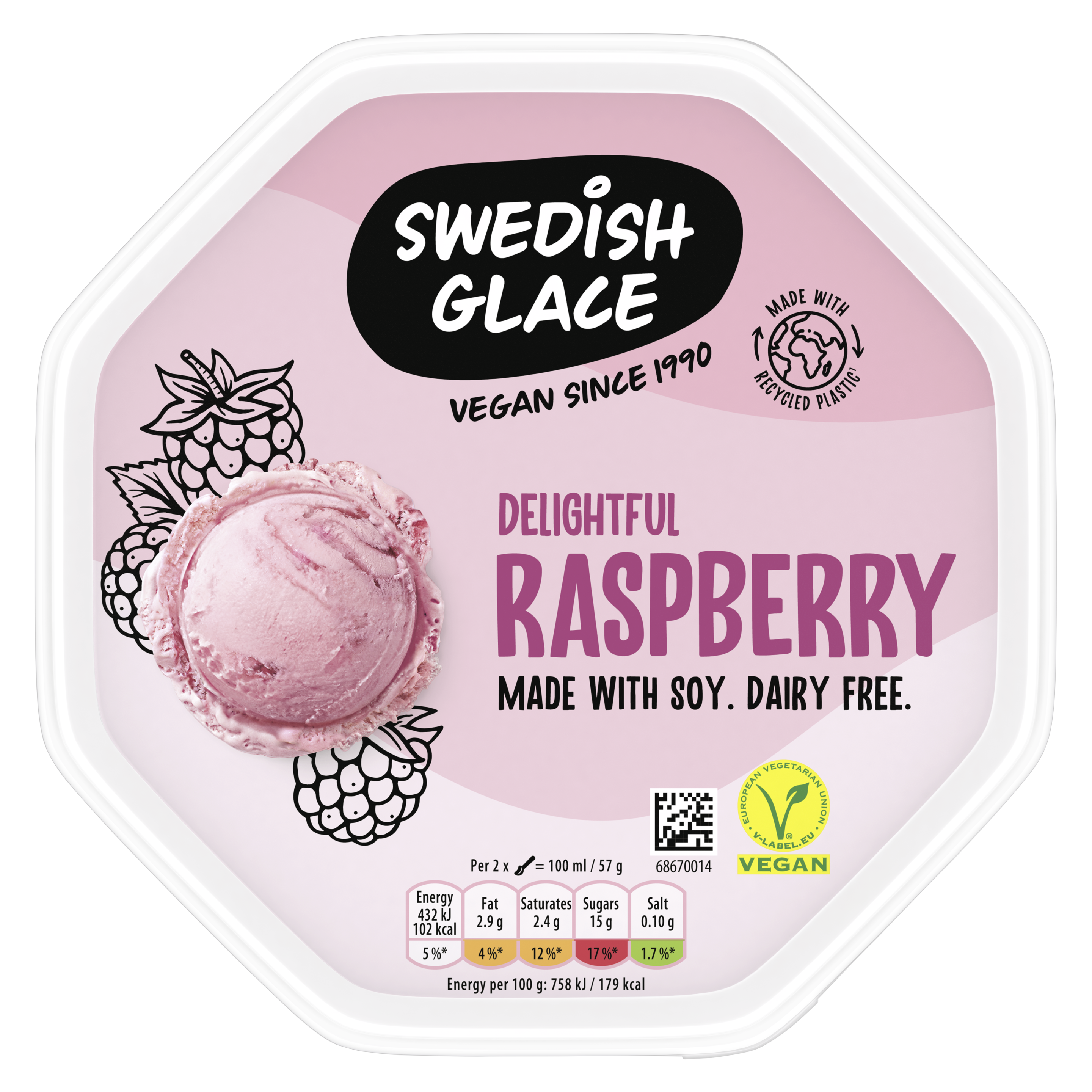 Swedish Glace Delightful Raspberry 
Delightful, dairy-free and deliciously smoooooth. It's a fruity favourite, summer in a spoon – it is our Delightful Raspberry flavour! Made with soy, this ice cream has a sharp but sweet swirl of raspberry sauce. It's vegan, lactose-free, gluten-free and kosher making this after-dinner delight a real crowd-pleaser.
Ingredients

Nutrition
Water, sugar, glucose syrup, glucose-fructose syrup, raspberry puree (5.0%), coconut fat, dextrose, SOY powder (1.5%), stabilisers (guar gum, locust bean gum, pectin, carrageenan), emulsifier (mono- and diglycerides of fatty acids), salt, colour (red beetroot juice concentrate), acidity regulator (citric acid), flavourings. Gluten free.
Soybeans and their derivates 
Serving size: 
Serving per container: 
| | Per 100g | Per 100ml |
| --- | --- | --- |
| Fat | 5 g | 2.9 g |
| Carbohydrates | 33 g | 19 g |
| ENER-KJ | 758 kJ | 432 kJ |
| .....of which sugars | 26 g | 15 g |
| FASAT | 4.2 g | 2.4 g |
| Energy | 179 kcal | 102 kcal |
| Protein | 0.9 g | 0.5 g |
| Salt | 0.18 g | 0.1 g |
| ENER-COMBINED | 179 kcal / 758 kJ | 102 kcal / 432 kJ |