Please recycle
"We can only eliminate plastic waste by acting fast and taking radical action. We need to rethink our entire approach to the packaging of our products". Alan Jope, Unilever CEO
At Wall's, we think it's important to have total transparency on which of our products can and can't be recycled. That's why we've created this handy chart to help you know how best to dispose of our Wall's ice cream packaging and their components.
All flavours and products of each Wall's brand below follow the same disposal method shown in the chart.
While we take all measures to ensure that our information is as up to date as possible, please check the specific recycling information on-pack and please check with your local recycling facilities. For any products not listed please consult the information provided on pack or contact our careline
Click this link to find out what is recycled in your area: www.recyclenow.com/local-recycling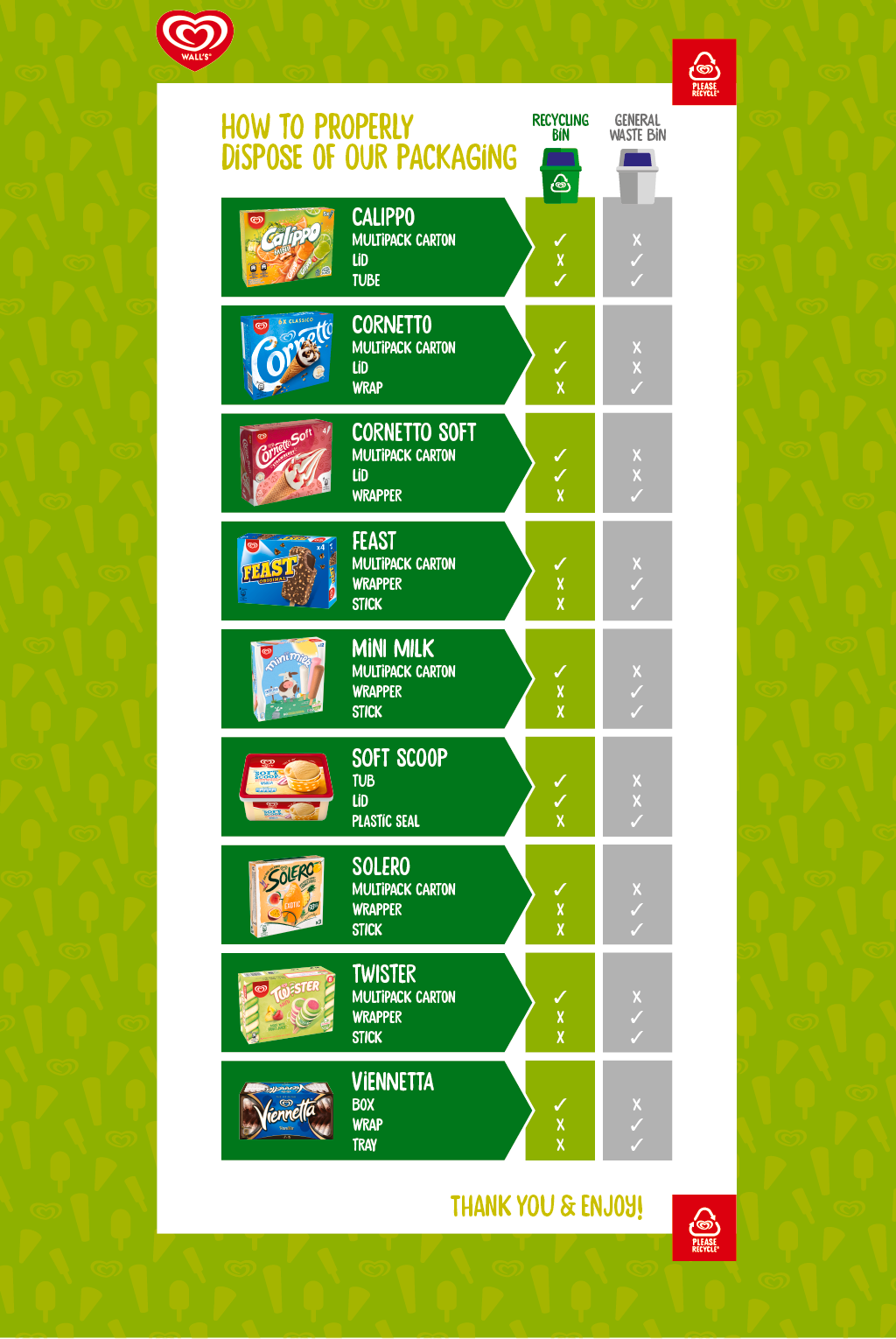 From saving lives to space travel, the invention of plastic changed the world. But the conveniences of plastic also resulted in a throw-away culture. It is important to acknowledge that many single-use plastic products are used for a few minutes yet have a potential lifespan on our planet of hundreds of years. We have committed ourselves to ensure that 100% of our plastic packaging is designed to be fully reusable, recyclable, or compostable by 2025. Where our packaging is not currently able to be recycled we are working hard to find solutions.
Unilever is working hard to tackle plastic packaging waste and has announced two ambitious new commitments:
1. We will halve the use of virgin plastic in our packaging by 2025.
We'll deliver this ambitious target in two ways. Firstly, by removing more than 100,000 tonnes of plastic packaging - which we'll achieve through the use of alternative packaging materials and exciting, creative solutions – and, secondly, by accelerating our use of recycled plastic in our packaging.
2. We will also collect and process more packaging than we sell by 2025.
We'll do this through investing and partnering to help improve the waste management infrastructure and by purchasing and using recycled plastic in our packaging.
Look out for our new recycling logo on our packaging!