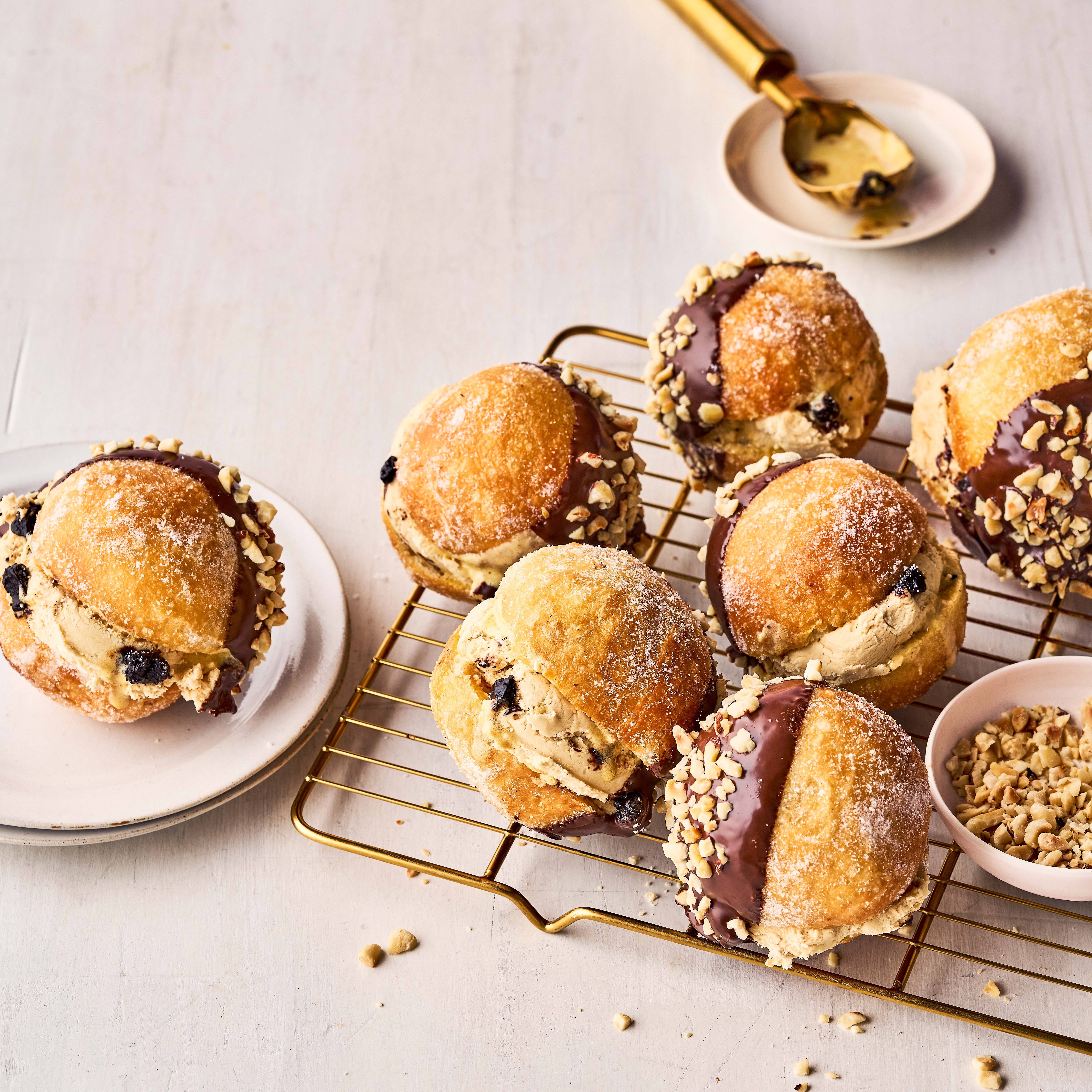 Doughnut Ice Cream Sandwiches
Add a touch of indulgence to your doughnuts with Carte D'Or's delectable Madagascan Vanilla & Brownies ice cream
Ingredients
100 g hazelnuts
200 g dark chocolate, roughly chopped
6 sugar ring doughnuts
6 scoops Carte D'or Vanilla & Brownies Ice Cream Dessert
How to make
Line a baking tray that fits in the freezer with baking paper. Toast the hazelnuts in a dry, hot frying pan for 1 min until golden. Allow to cool then finely chop and set aside on a plate.

Melt the chocolate in a small, deep heatproof bowl in short bursts in the microwave. Allow to cool for 5 mins while you cut the doughnuts in half. Next, spoon 1-2 scoops of ice cream onto one half of each doughnut, then place the other half on top to create a sandwich.

Lie the baking tray in the freezer, then dip one half of a doughnut sandwich into the melted chocolate before rolling in the chopped hazelnuts. Place the doughnut onto the baking tray and repeat with the remaining doughnuts. Freeze for at least 1 hour before serving.
Delicious Recipes
Chocolate hazelnut brownies with honeycomb and Carte D'Or Indulgent Chocolate ice cream

14

people

Medium

35 min

25 min

Chocolate-chip cookie vanilla ice cream sandwiches, with Carte D'Or Madagascan Vanilla ice cream.

12

people

Medium

30 min

15 min

A three-tier chocolate cake with layers of Carte D'Or Madagascan Vanilla ice cream, topped with frozen blackberries.

12

people

Medium

25 min

25 min
servings

people

difficulty

prepTime

cookTime