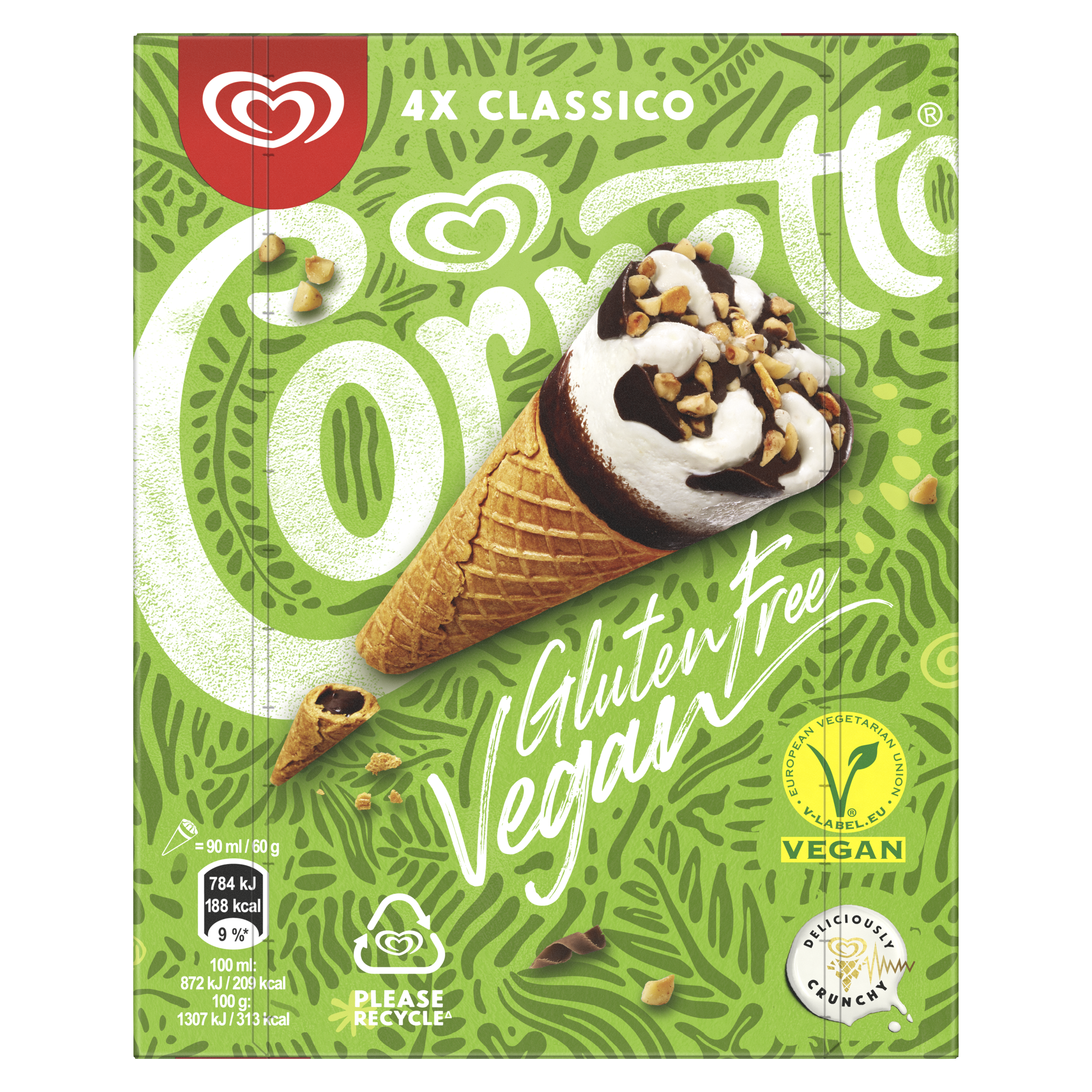 Cornetto Made with Soy and Gluten Free 4MP 
Try our brand new vegan ice cream treat that is made from soy ice cream and a crunchy gluten-free cone. It's perfect for after dinner or an afternoon treat! Now even more people can enjoy Cornetto all year round.
Ingredients

Nutrition
Water, sugar, coconut fat, glucose syrup, corn flour, corn starch, glucose-fructose syrup, HAZELNUTS, fat-reduced cocoa powder, SOY flour (1%), sunflower oil, emulsifiers (lecithins, mono- and diglycerides of fatty acids), stabilisers (guar gum, locust bean gum), flavourings, salt. May contain milk and pistachio nuts. Gluten free.
Soybeans and their derivates, Nuts and their derivates, Milk and its derivates, Hazelnut And Hazelnut Products, Pistachio And Pistachio Products 
Serving size: 
Serving per container: 
| | Per 100g | Per 100ml | Per Portion* | %**Per Portion* |
| --- | --- | --- | --- | --- |
| Salt | 0.11 g | 0.07 g | 0.07 g | 1% |
| Carbohydrates | 41 g | 27 g | 25 g | 10% |
| .....of which sugars | 27 g | 18 g | 16 g | 18% |
| ENER-KJ | 1307 kJ | 872 kJ | 784 kJ | 9% |
| Fat | 15 g | 10 g | 9.2 g | 13% |
| Protein | 1.8 g | 1.2 g | 1.1 g | 2% |
| Energy | 313 kcal | 209 kcal | 188 kcal | 9% |
| FASAT | 11 g | 7.5 g | 6.7 g | 34% |
| FIBTG | 1.2 g | 0.8 g | 0.7 g | |
| ENER-COMBINED | 313 kcal / 1307 kJ | 209 kcal / 872 kJ | 188 kcal / 784 kJ | 9% |