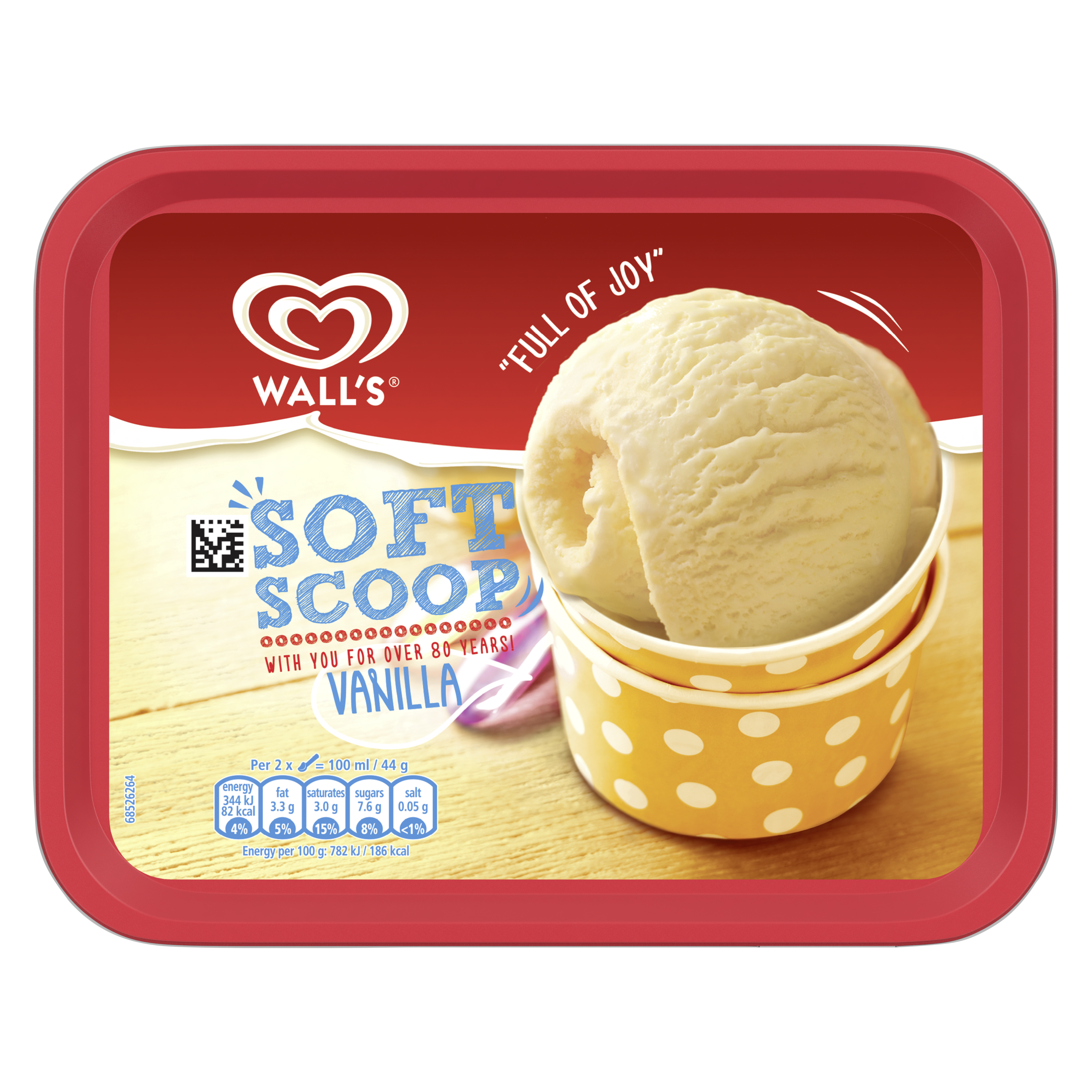 Wall's Soft Scoop Vanilla 1800ml 
Vanilla flavour ice cream. We put our passion and 90 years of ice cream experience into every tub, so it's no wonder we're the number one soft scoop brand. Enjoy our classic vanilla flavour ice cream on its own, with toppings, or as a compliment to your favourite pudding.
Ingredients

Nutrition
Reconstituted skimmed MILK, glucose syrup, sugar, coconut fat, fructose, concentrated skimmed MILK, whey solids (MILK), emulsifier (mono- and diglycerides of fatty acids), stabilisers (guar gum, locust bean gum), colours (annatto norbixin, curcumin), flavourings.
Milk and its derivates 
Serving size: 
Serving per container: 
| | Per 100g | Per 100ml | Per Portion* | %**Per Portion* |
| --- | --- | --- | --- | --- |
| .....of which sugars | 17 g | 7.6 g | 7.6 g | 8% |
| Fat | 7.5 g | 3.3 g | 3.3 g | 5% |
| Protein | 2.5 g | 1.1 g | 1.1 g | 2% |
| Energy | 186 kcal | 82 kcal | 82 kcal | 4% |
| FASAT | 6.8 g | 3 g | 3 g | 15% |
| ENER-KJ | 782 kJ | 344 kJ | 344 kJ | 4% |
| Salt | 0.11 g | 0.05 g | 0.05 g | 1% |
| Carbohydrates | 27 g | 12 g | 12 g | 5% |
| ENER-COMBINED | 186 kcal / 782 kJ | 82 kcal / 344 kJ | 82 kcal / 344 kJ | 4% |