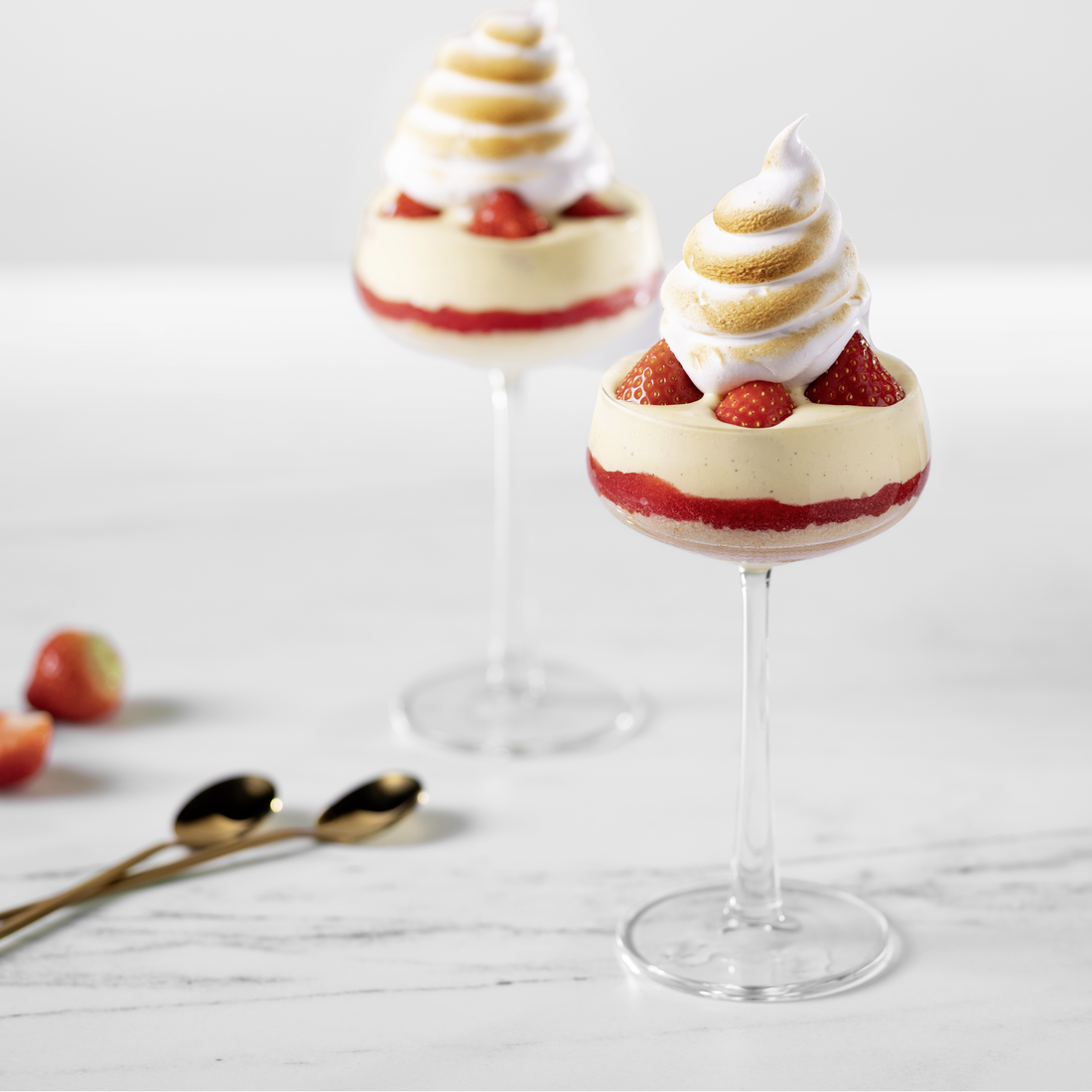 Baked Alaska served with fresh strawberries and Madagascan Vanilla ice cream
Ingredients
200 g cake crumbs
4 scoops Carte D'or Madagascan Vanilla Ice Cream Dessert
20 fresh strawberries
2 egg whites
100 g sugar
10 fresh strawberries for a fresh strawberry sauce
How to make
In 4 cocktail glasses, divide the small cake pieces evenly.

In a heatproof bowl, whisk together the sugar and egg whites over a Bain Marie until warm. Continuously whisk while heating.

Remove the bowl from the heat and use a hand mixer to beat the egg whites until stiff.

Scoop Carte D'Or Madagascan Vanilla ice cream on top of the cake pieces in each glass.

Gently press fresh strawberries into the ice cream.

Blend 10 of the strawberries to make a fresh strawberry sauce and pour it over the strawberries.

Using a piping bag or spoon, add the meringue on top of the strawberries.

Using a kitchen torch, lightly brown the meringue.
Delicious Recipes
Chocolate hazelnut brownies with honeycomb and Carte D'Or Indulgent Chocolate ice cream

14

people

Medium

35 min

25 min

Chocolate-chip cookie vanilla ice cream sandwiches, with Carte D'Or Madagascan Vanilla ice cream.

12

people

Medium

30 min

15 min

A summer berry pavlova with fresh meringues, mixed summer berries, and Carte D'Or Madagascan Vanilla ice cream.

10

people

Medium

40 min

120 min
servings

people

difficulty

prepTime

cookTime