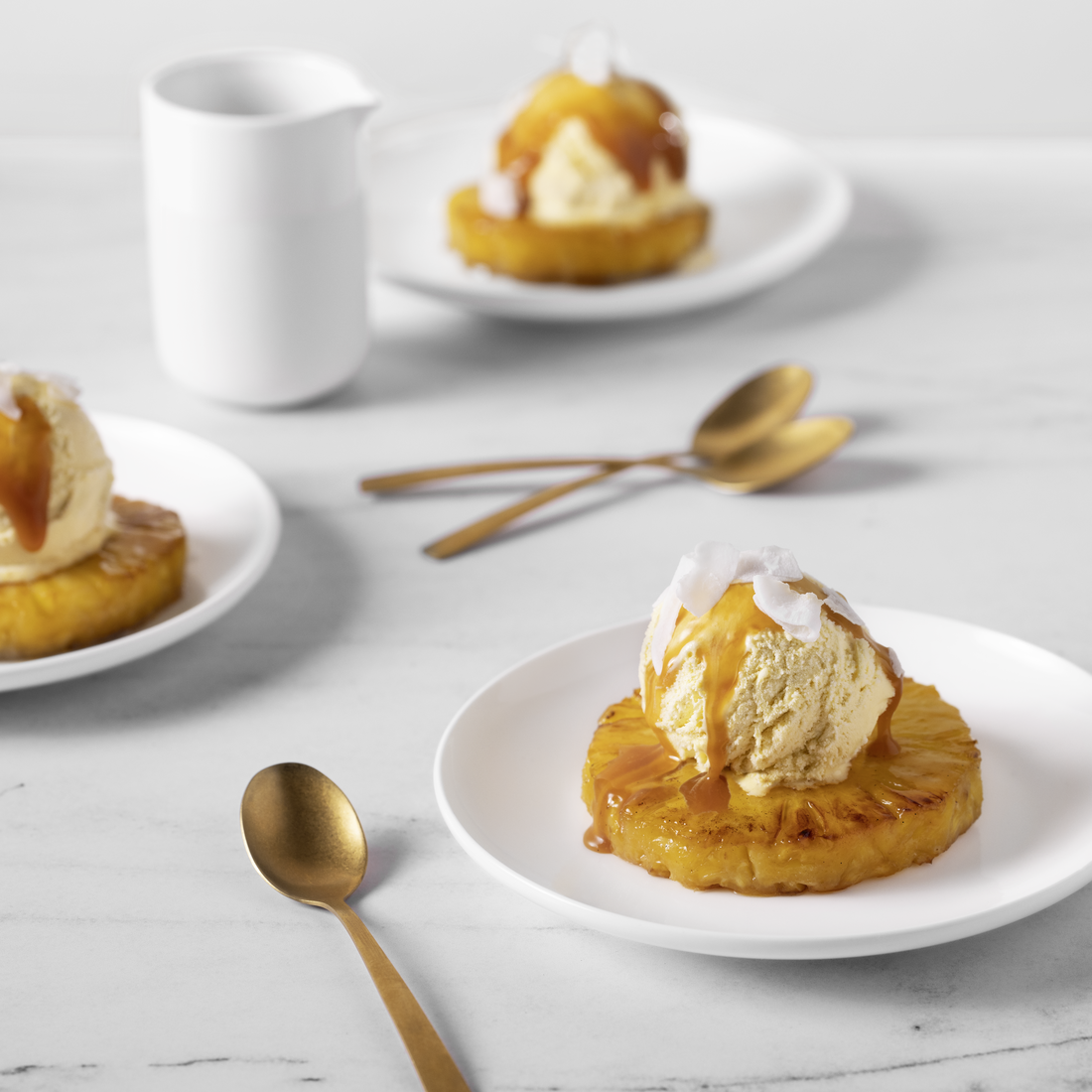 Caramelised Pineapple with spiced caramel sauce and Carte D'Or Madagascan Vanilla ice cream
Ingredients
1 large, sweet pineapple
1 tsp butter
80 g sugar
sprinkle of coconut flakes
10 scoops Carte D'or Madagascan Vanilla Ice Cream Dessert
50 ml water
170 g sugar
180 g cream
1 small cinnamon stick
1/2 vanilla pod
5 cardamom seeds
1 star anise
How to make
To make the caramel sauce, combine the cinnamon stick, vanilla pod, cardamom seeds, star anise, water and 170g sugar in a large cooking pot. Bring to a boil and cook until golden brown.

In a small pan, heat the cream. Slowly add the cream to the caramelised sugar while stirring.

Boil the caramel sauce for a couple of minutes, then strain it through a fine sieve. Let the sauce cool to room temperature.

Peel and core the pineapple, then cut it into 1.5cm slices.

Using a small round cutter, remove the core from the pineapple slices.

Heat some butter in a sauté pan over medium heat. Pan fry the pineapple slices for a couple of minutes on each side.

Sprinkle the sugar over the pineapple slices to caramelise them. Repeat this step if not all the slices will fit in the pan at once.

Arrange the caramelised pineapple slices on plates.

Scoop Carte D'Or Madagascan Vanilla ice cream on top of the pineapple slices and drizzle the spiced caramel sauce over the dessert.

Serve with toasted coconut flakes and enjoy!
Per serving
| Title | Per serving |
| --- | --- |
| Salt (g) | 403.09 kcal |
Delicious Recipes
Apple Tarte Tatin with caramelised Granny Smith apples and Carte D'Or Madagascan Vanilla ice cream.

8

people

Medium

20 min

40 min

A rustic red plum tart served with crushed hazelnuts and Carte D'Or Madagascan Vanilla ice cream atop.

8

people

Hard

45 min

45 min

Waffles with a hint of cinnamon, topped with caramelised banana, toasted almonds, and Carte D'Or Madagascan Vanilla ice cream.

6

people

Medium

45 min

20 min
servings

people

difficulty

prepTime

cookTime