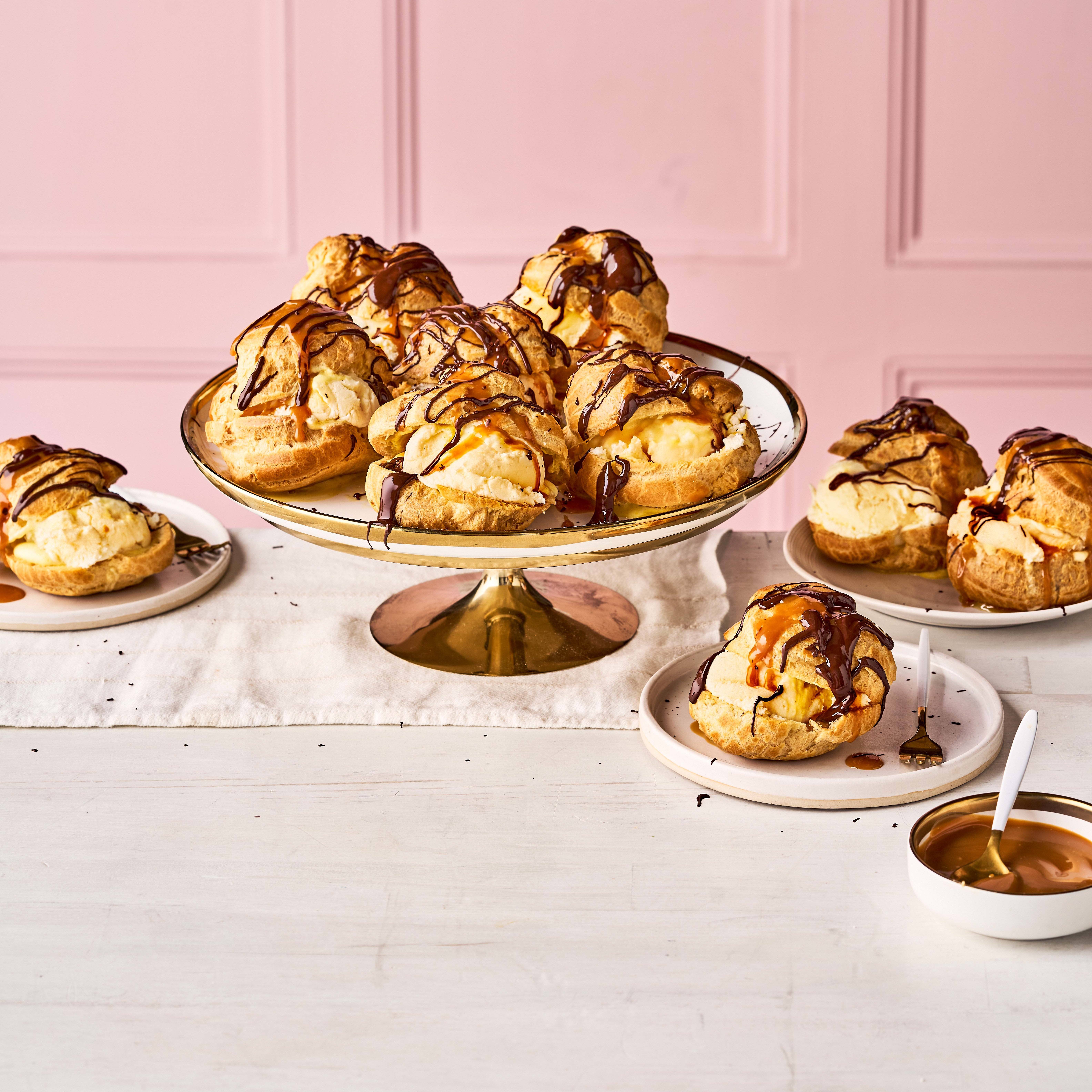 Fill your profiteroles with Carte D'Or's classic Madagascan Vanilla ice cream for the ultimate summery twist
Ingredients
100 g butter
150 g plain flour
4 eggs, beaten
3 tbsp milk
100 g dark chocolate
10 scoops Carte D'or Madagascan Vanilla Ice Cream Dessert
drizzle salted caramel sauce, warmed, to serve
How to make
Heat the oven to 220°C/200°C fan/gas 7 and line a large baking sheet with baking paper. Heat the butter and 150ml water in a pan over a medium heat until the butter melts, then bring to the boil. Add the flour, along with a pinch of salt, and beat with a wooden spoon until the mixture forms a ball and comes away from the edges. Take off the heat and leave to cool for at least 15 mins before gradually beating in the egg, making sure it's fully incorporated before adding more.

Once the mixture reaches a dropping consistency, use a piping bag or spoon to make 10 mounds on the baking tray, leaving 3cm between each one. Smooth the tops with a wet finger, then bake for 20-25 mins until golden and crisp. Remove from the oven and set aside to cool.

Heat the milk in a microwaveable bowl and stir in 75g of chopped chocolate until melted. If it's too thick, add a splash more milk. Once the profiteroles are cool, cut in half and fill each one with a scoop of ice cream. Carefully stack the profiteroles on top of each other and drizzle over the chocolate and salted caramel sauces. Grate over the remaining dark chocolate and serve immediately.
Per serving
| Title | Per serving |
| --- | --- |
| Salt (g) | 1078.4 kcal |
Delicious Recipes
Chocolate hazelnut brownies with honeycomb and Carte D'Or Indulgent Chocolate ice cream

14

people

Medium

35 min

25 min

Chocolate-chip cookie vanilla ice cream sandwiches, with Carte D'Or Madagascan Vanilla ice cream.

12

people

Medium

30 min

15 min

A three-tier chocolate cake with layers of Carte D'Or Madagascan Vanilla ice cream, topped with frozen blackberries.

12

people

Medium

25 min

25 min
servings

people

difficulty

prepTime

cookTime