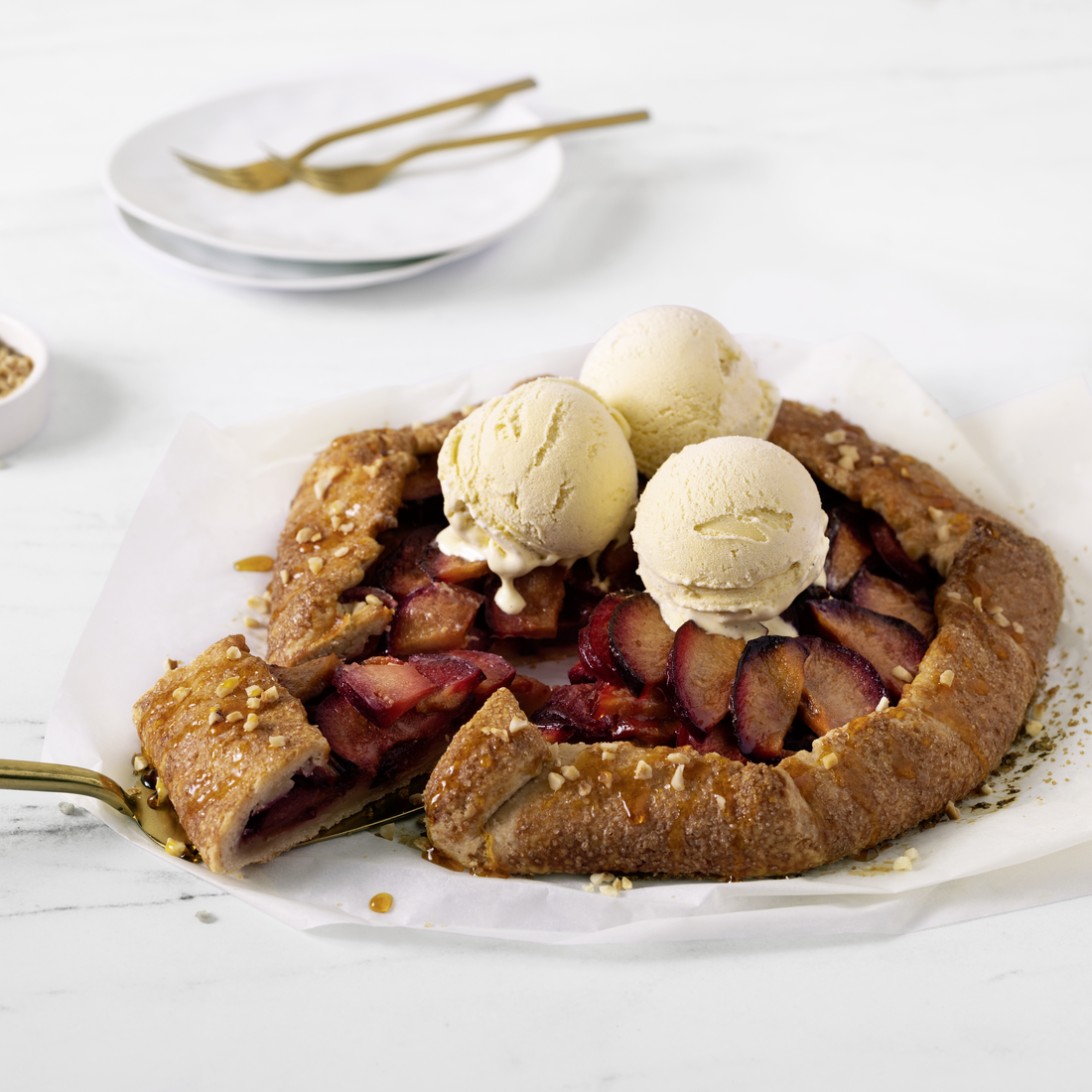 A rustic red plum tart served with crushed hazelnuts and Carte D'Or Madagascan Vanilla ice cream atop.
Ingredients
200 g flour
25 g sugar
1/2 tsp cinnamon
1/2 tsp salt
lemon zest
175 g cold butter, cut into small cubes
60 ml cold water
600 g red plums, thinly sliced
70 g sugar
1 tsp cinnamon
1 tsp vanilla extract
pinch of salt
2 tbsp melted butter
60 g cookie crumbs
1 egg
sprinkle of cane sugar
crushed hazelnuts
3 scoops Carte D'or Madagascan Vanilla Ice Cream Dessert
How to make
Combine flour, sugar, cinnamon, salt, and lemon zest in a kitchen machine.

Add cold butter cubes and mix until crumbly.

Add cold water and mix shortly.

Form the dough into a ball, then roll out with a rolling pin to around 20cm in diameter.

Place the dough in the fridge for 30 minutes.

Wash and slice the red plums into 4mm pieces and place in a bowl.

Add sugar, cinnamon, salt, vanilla, and melted butter to the bowl and mix together.

Preheat the oven to 170°C.

Roll out the dough until it is around 30cm in diameter and 1/2mm thick on a floured surface.

Place the dough on baking paper, then on a flat oven baking tray.

Spread the cookie crumbs in the middle of the dough.

Add the plum filling to the middle of the dough, leaving 7cm of edges free.

Fold the edges of the dough over the plums in a free-form.

Brush the dough and plums with the beaten egg.

Sprinkle cane sugar over the dough and plums.

Put the tart in the fridge for 20 minutes.

Bake the tart for 40-45 minutes or until golden brown.

Transfer the tart to a wire rack and sprinkle with crushed hazelnuts.

Serve with Carte D'Or Madagascan Vanilla ice cream on top.
Per serving
| Title | Per serving |
| --- | --- |
| Salt (g) | 485.21 kcal |
Delicious Recipes
Apple Tarte Tatin with caramelised Granny Smith apples and Carte D'Or Madagascan Vanilla ice cream.

8

people

Medium

20 min

40 min

Chocolate hazelnut brownies with honeycomb and Carte D'Or Indulgent Chocolate ice cream

14

people

Medium

35 min

25 min

Waffles with a hint of cinnamon, topped with caramelised banana, toasted almonds, and Carte D'Or Madagascan Vanilla ice cream.

6

people

Medium

45 min

20 min
servings

people

difficulty

prepTime

cookTime