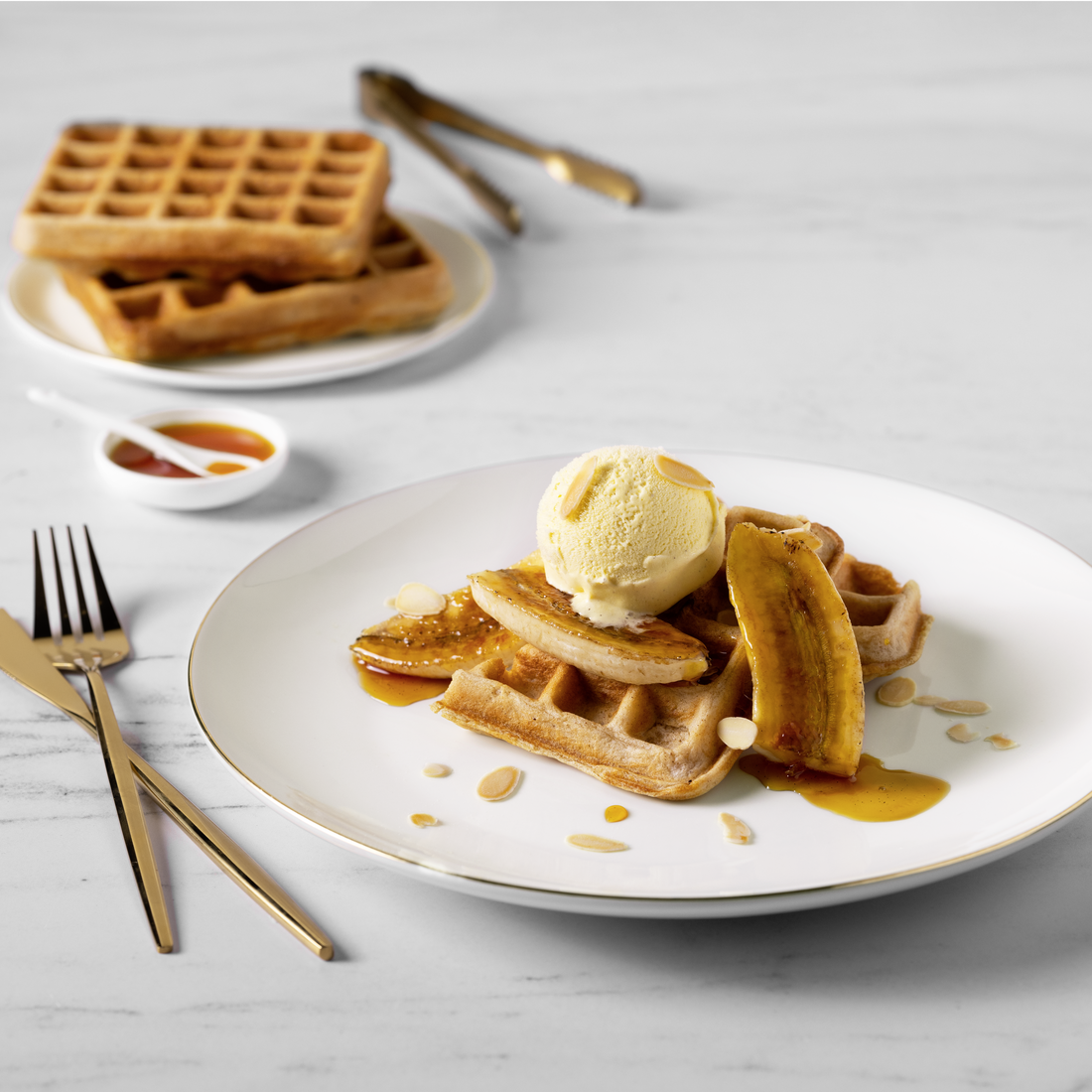 Waffles with Caramelised Banana
Waffles with a hint of cinnamon, topped with caramelised banana, toasted almonds, and Carte D'Or Madagascan Vanilla ice cream.
Ingredients
175 ml milk
125 ml water
7 g dried yeast
35 g sugar
250 g flour
1 tsp vanilla extract
1 tsp cinnamon
pinch of salt
3 eggs
90 g melted butter
1 lemon zest, finely grated
3 bananas
6 scoops Carte D'or Madagascan Vanilla Ice Cream Dessert
drizzle of caramel sauce
toasted almonds
How to make
Dissolve the yeast in the lukewarm milk. Add the eggs and sugar and whisk.

Put the flour, cinnamon, and salt through a sieve and mix until smooth. Slowly whisk in the water and finally the melted butter. Allow the batter to rise for at least one hour.

Preheat a waffle iron and grease it with some oil or butter.

With a large spoon, add the waffle batter into the waffle iron. Bake the waffles for 6-8 minutes or until golden brown and cooked.

Peel the bananas, slice them through the middle, and cut them in half. Caramelise them in a non-stick pan with a bit of butter and sugar on one side.

Place the waffles on the plates, add the caramelised banana pieces, and scoop the Carte D'Or Madagascan Vanilla ice cream on top.

Drizzle some caramel sauce over the waffles and sprinkle some toasted almonds on the dessert.
Per serving
| Title | Per serving |
| --- | --- |
| Salt (g) | 595.9 kcal |
Delicious Recipes
Apple Tarte Tatin with caramelised Granny Smith apples and Carte D'Or Madagascan Vanilla ice cream.

8

people

Medium

20 min

40 min

Chocolate hazelnut brownies with honeycomb and Carte D'Or Indulgent Chocolate ice cream

14

people

Medium

35 min

25 min

A rustic red plum tart served with crushed hazelnuts and Carte D'Or Madagascan Vanilla ice cream atop.

8

people

Hard

45 min

45 min
servings

people

difficulty

prepTime

cookTime