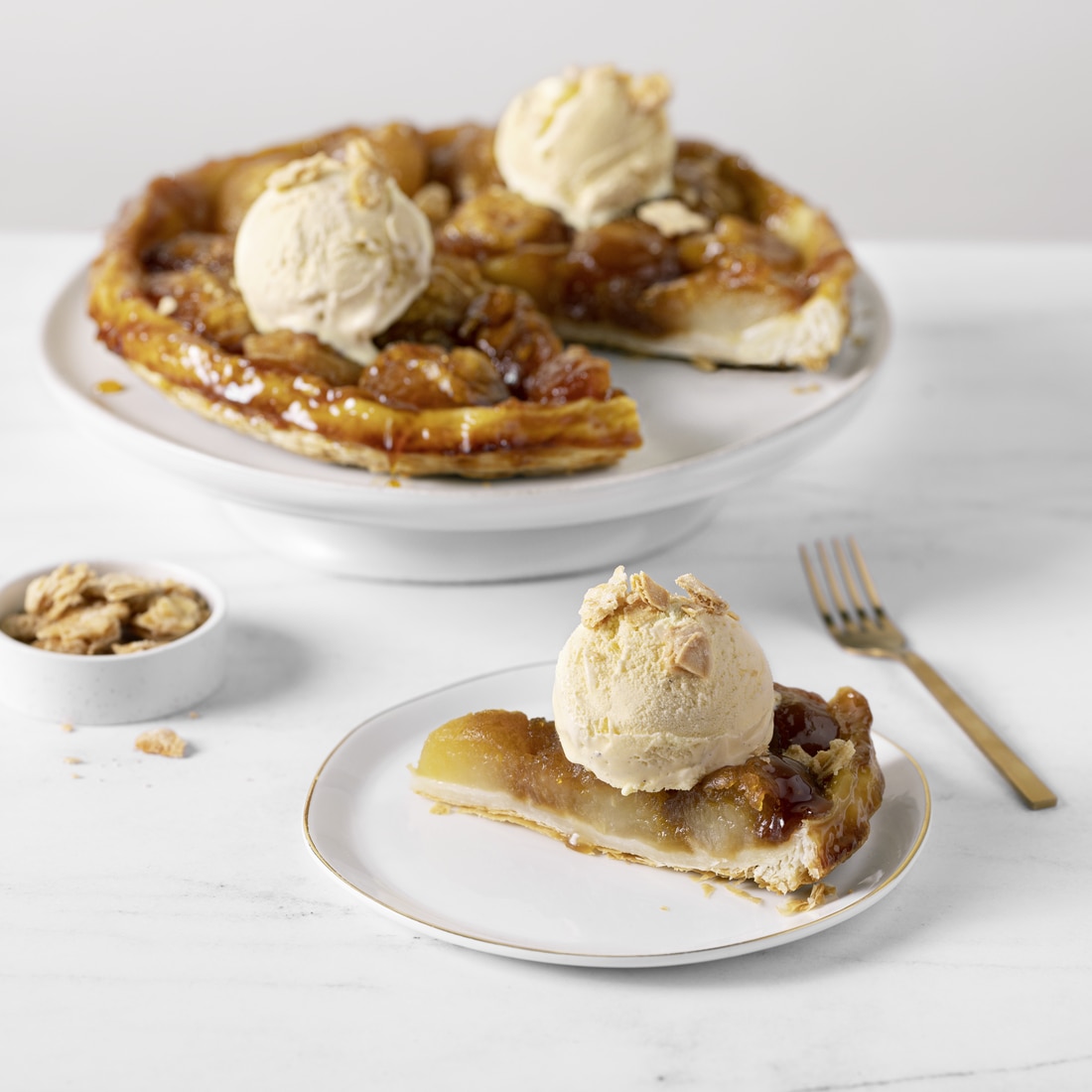 Apple Tarte Tatin with caramelised Granny Smith apples and Carte D'Or Madagascan Vanilla ice cream.
Ingredients
5 Granny Smith apples
170 g sugar
70 g butter
350 g all butter puff pastry, rolled into 26 cm round, pricked on both sides with a fork
8 scoops Carte D'or Madagascan Vanilla Ice Cream Dessert
How to make
Preheat the oven to 185°C.

Peel and core the apples, then cut them into quarters.

In a heavy stainless steel sauté pan (24cm diameter), caramelise the sugar until it becomes brown. Add the butter and stir until melted.

Arrange the apple quarters tightly in the pan, with the core facing up.

Place the rolled-out puff pastry dough on top of the apples.

Bake in the oven for 30-40 minutes, or until the puff pastry is brown and crisp.

Carefully remove the pan from the oven and let it cool for a couple of minutes.

Flip the pan upside down to release the Tarte Tatin.

Cut the Tarte Tatin into pieces and serve with Carte D'Or Madagascan Vanilla ice cream. Enjoy!
Per serving
| Title | Per serving |
| --- | --- |
| Salt (g) | 407.96 kcal |
Delicious Recipes
Chocolate hazelnut brownies with honeycomb and Carte D'Or Indulgent Chocolate ice cream

14

people

Medium

35 min

25 min

A rustic red plum tart served with crushed hazelnuts and Carte D'Or Madagascan Vanilla ice cream atop.

8

people

Hard

45 min

45 min

Waffles with a hint of cinnamon, topped with caramelised banana, toasted almonds, and Carte D'Or Madagascan Vanilla ice cream.

6

people

Medium

45 min

20 min
servings

people

difficulty

prepTime

cookTime