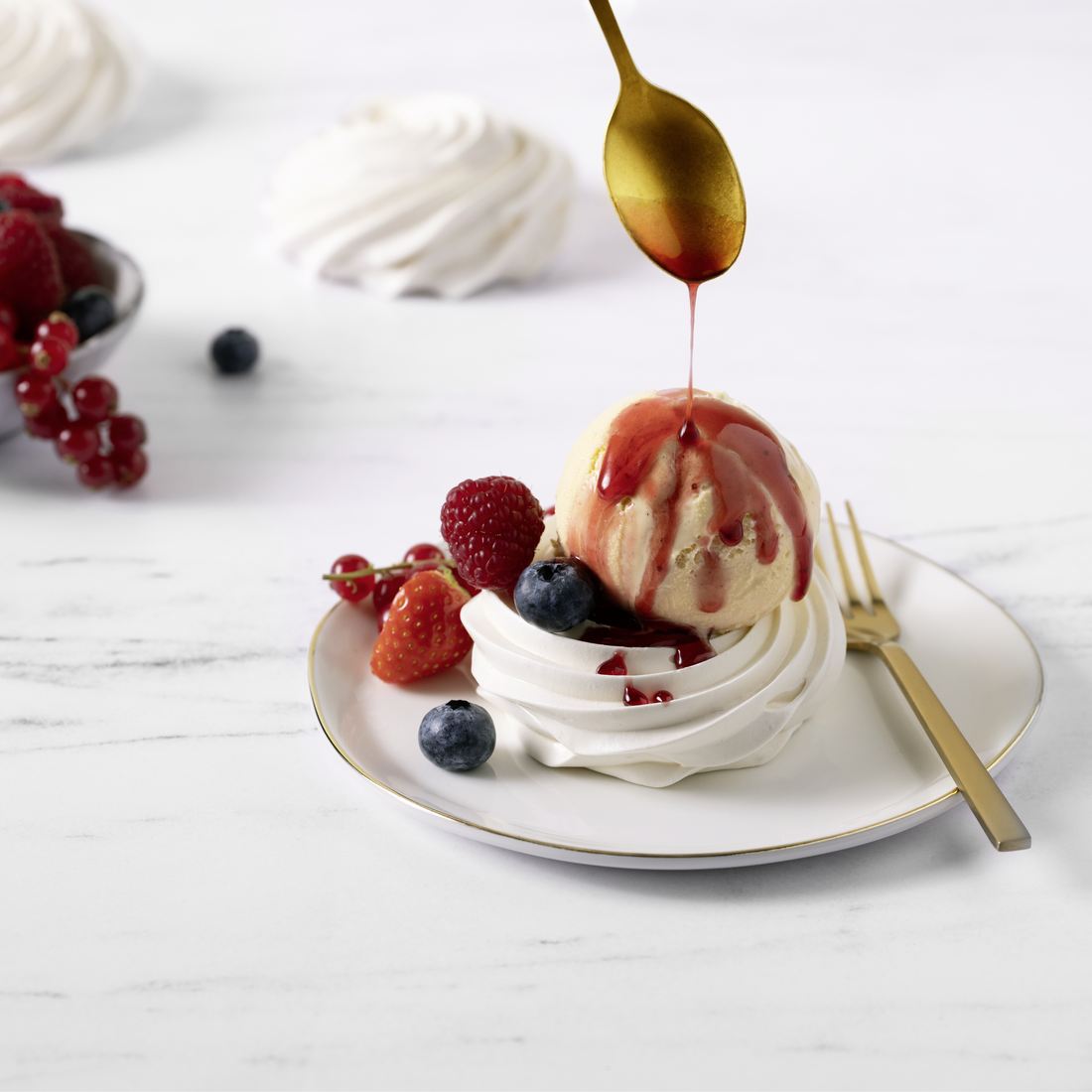 A summer berry pavlova with fresh meringues, mixed summer berries, and Carte D'Or Madagascan Vanilla ice cream.
Ingredients
140 g egg white
200 g sugar
1 tsp vinegar
10 scoops of Carte D'or Madagascan Vanilla Ice Cream Dessert
20 strawberries
50 raspberries
50 blueberries
10 bunches redcurrants
drizzle of strawberry sauce (or berry sauce of your choice)
How to make
In a bowl, whip the egg whites until white and fluffy. Slowly add the sugar while mixing until shiny/glossy. Mix in the vinegar.

Line a flat oven tray with baking paper and preheat oven to 90°C.

Transfer the meringue into a piping bag with a star nozzle or spoon it onto the baking paper to make 10 round nests. Leave enough space between them.

Bake them for at least 1.5 - 2 hours at 90°C. Let them cool down and store them in an airtight container.

Place the pavlova's on plates and divide the fruits on and around them in an ornamental manner.

Scoop the Carte D'Or Madagascan Vanilla ice cream on top and drizzle some of your favourite berry sauce over it.
Delicious Recipes
Baked Alaska served with fresh strawberries and Madagascan Vanilla ice cream

4

people

Medium

15 min

15 min

French toast with Carte D'Or Madagascan Vanilla ice cream and a selection of summer berries

2

people

Medium

15 min

10 min

A three-tier chocolate cake with layers of Carte D'Or Madagascan Vanilla ice cream, topped with frozen blackberries.

12

people

Medium

25 min

25 min
servings

people

difficulty

prepTime

cookTime