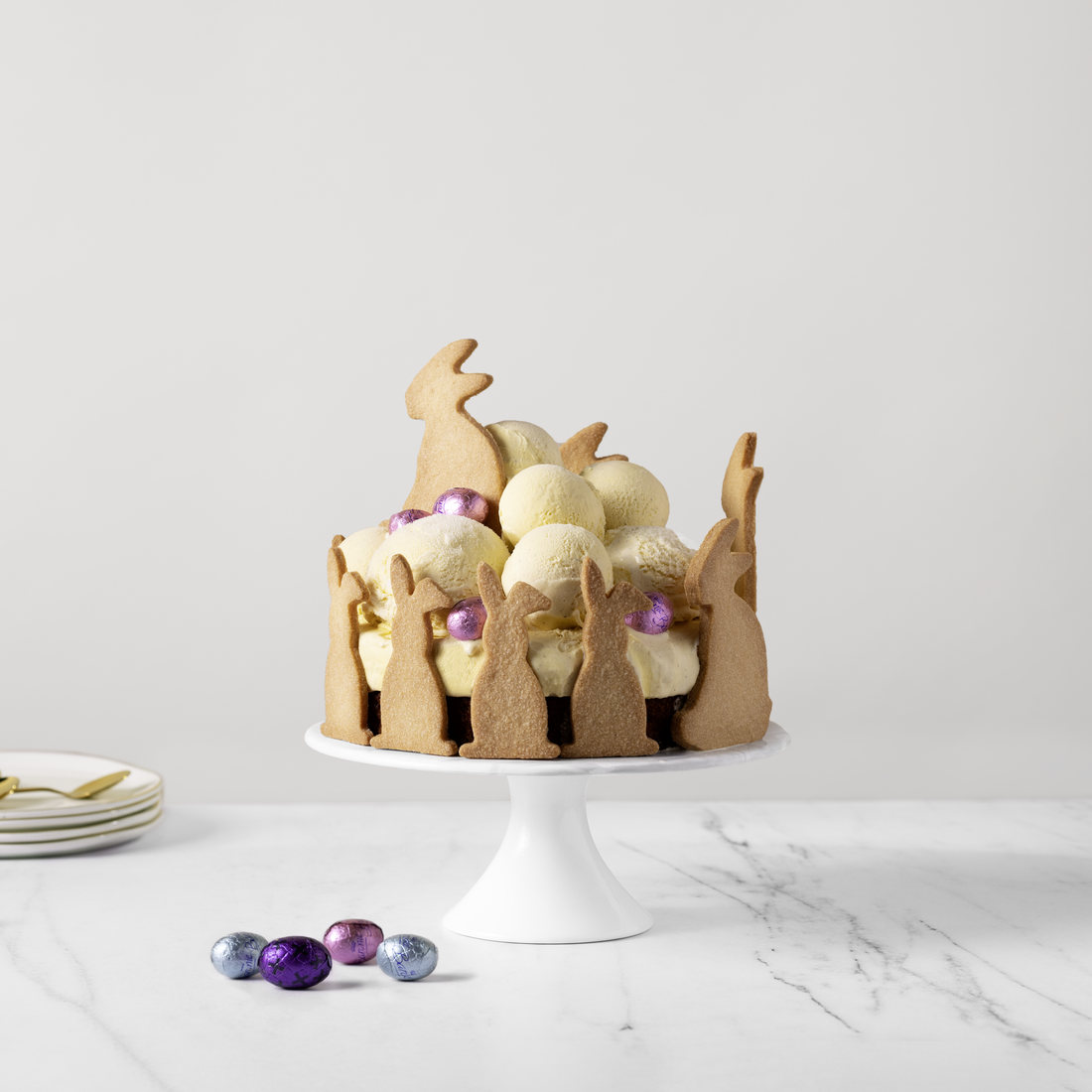 A carrot cake surrounded by Easter Bunny cookies and served with Carte D'Or Madagascan Vanilla ice cream and chocolate Easter eggs.
Ingredients
2 tubs Carte D'or Madagascan Vanilla Ice Cream Dessert
chocolate Easter eggs
90 ml sunflower oil
135 g light brown sugar
pinch of salt
1 finely grated orange peel
2 small eggs
100 g flour
2.5 tsp baking powder
1/2 tbsp ground cinnamon
150 g grated carrot
100 g sugar
100 g butter
1 egg
200 g flour
pinch of salt
How to make
In a mixing bowl, combine the sunflower oil, light brown sugar, salt, and finely grated orange peel. Mix with a hand mixer for 3 minutes.

Add the small eggs and mix briefly.

Sieve the flour, baking powder, and ground cinnamon together and add to the batter. Mix with a spatula.

Add the grated carrot and mix with a spatula.

Pour the batter into a greased 22cm round baking tray.

Bake the cake at 175°C for 35-40 minutes or until it turns golden brown and is cooked through.

Remove the cake from the baking tray and let it cool down completely on a wire rack before using it further.

In a mixing bowl, mix the butter and sugar until smooth.

Add the egg, flour, and salt and mix until the dough forms.

Put the dough in the fridge for at least 30-60 minutes.

Preheat the oven to 170°C.

Lightly dust the surface with flour and roll out the dough to 1/2 cm thickness.

Use various bunny cookie cutters to cut out the cookies.

Place the cookies on a baking tray lined with baking paper.

Bake the cookies in the oven at 170°C for 10-12 minutes or until they turn golden brown.

Let the cookies cool down on a wire rack.

Add a layer of Carte D'Or Madagascan Vanilla ice cream on top of the carrot cake and place it back in the freezer for at least half an hour.

Take the cake out of the freezer and scoop ice cream balls on top of the cake.

Place the cookies around the ice cream cake and serve immediately.

Add some chocolate Easter eggs for extra decoration.
Delicious Recipes
Chocolate hazelnut brownies with honeycomb and Carte D'Or Indulgent Chocolate ice cream

14

people

Medium

35 min

25 min

Chocolate-chip cookie vanilla ice cream sandwiches, with Carte D'Or Madagascan Vanilla ice cream.

12

people

Medium

30 min

15 min

Fluffy pancakes served with raspberries, maple syrup, and Carte D'Or Indulgent Chocolate ice cream

2

people

Medium

20 min

15 min
servings

people

difficulty

prepTime

cookTime