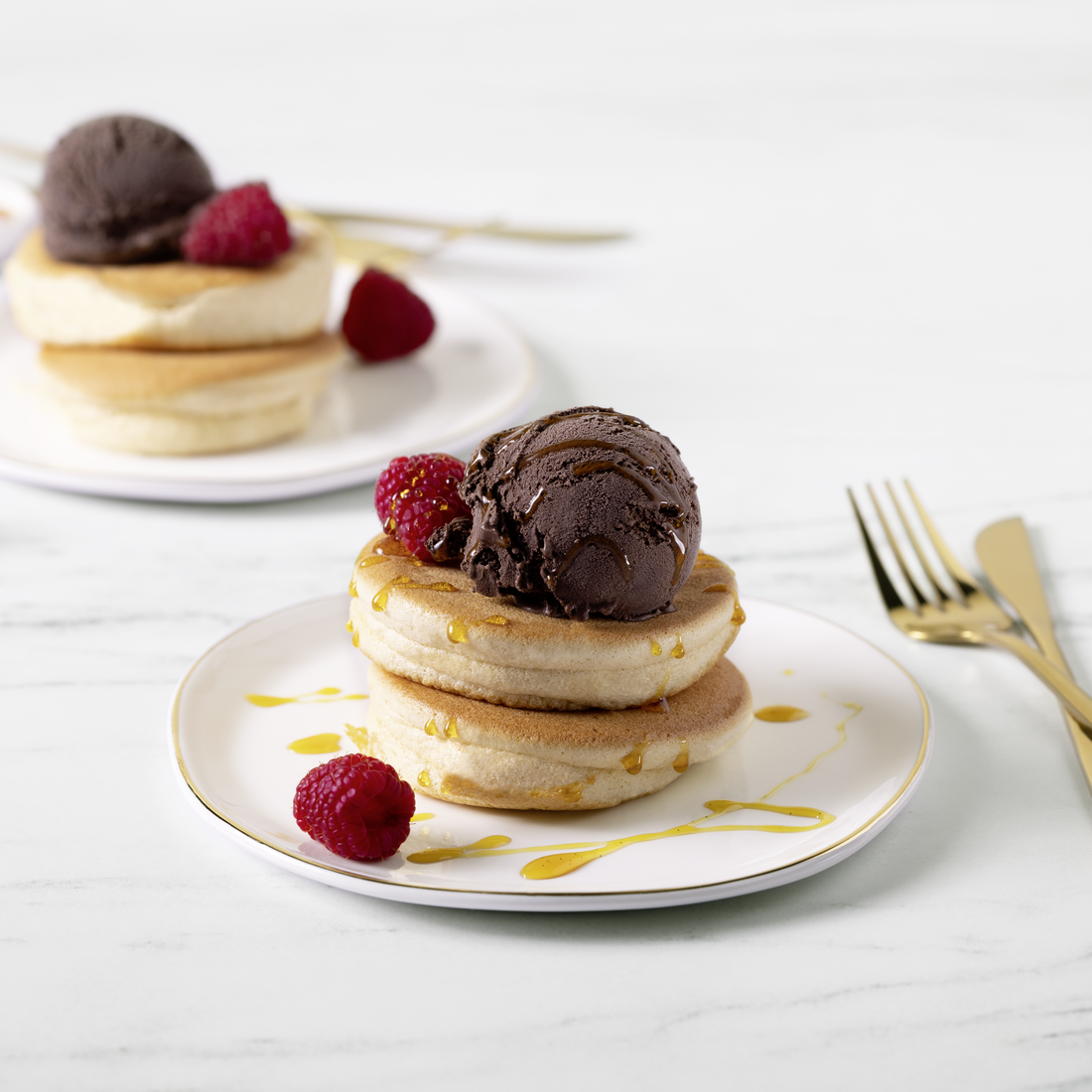 Fluffy pancakes served with raspberries, maple syrup, and Carte D'Or Indulgent Chocolate ice cream
Ingredients
2 scoops Carte D'or Indulgent Chocolate Ice Cream Dessert
20 g egg yolk
10 g sugar
drop of vanilla extract
30 ml milk
30 g flour
1 tsp baking powder
60 g egg whites
20 g sugar
80 g raspberries
drizzle of maple syrup
How to make
In a bowl, whisk together the egg yolk, sugar, vanilla extract, milk, flour, and baking powder until light and fluffy.

In a separate bowl, use an electric mixer to beat the egg whites until they form stiff peaks. Gradually add 20g sugar while continuing to beat until the mixture is thick and shiny.

Gently fold the meringue into the egg yolk mixture, being careful to keep it light and fluffy.

Heat a non-stick pan with a little oil. Spoon 4 large scoops of batter into the pan, leaving space between them. Add more batter on top of the scoops until it's all used up.

Cover the pan with a lid and cook on low heat for 5-7 minutes. Flip the pancakes and cook for another 5 minutes on low heat.

Stack 2 pancakes on a plate and top with raspberries.

Scoop ice cream on top of the pancakes and drizzle with maple syrup.
Per serving
| Title | Per serving |
| --- | --- |
| Salt (g) | 338.86 kcal |
Delicious Recipes
Chocolate hazelnut brownies with honeycomb and Carte D'Or Indulgent Chocolate ice cream

14

people

Medium

35 min

25 min

Chocolate-chip cookie vanilla ice cream sandwiches, with Carte D'Or Madagascan Vanilla ice cream.

12

people

Medium

30 min

15 min

A three-tier chocolate cake with layers of Carte D'Or Madagascan Vanilla ice cream, topped with frozen blackberries.

12

people

Medium

25 min

25 min
servings

people

difficulty

prepTime

cookTime