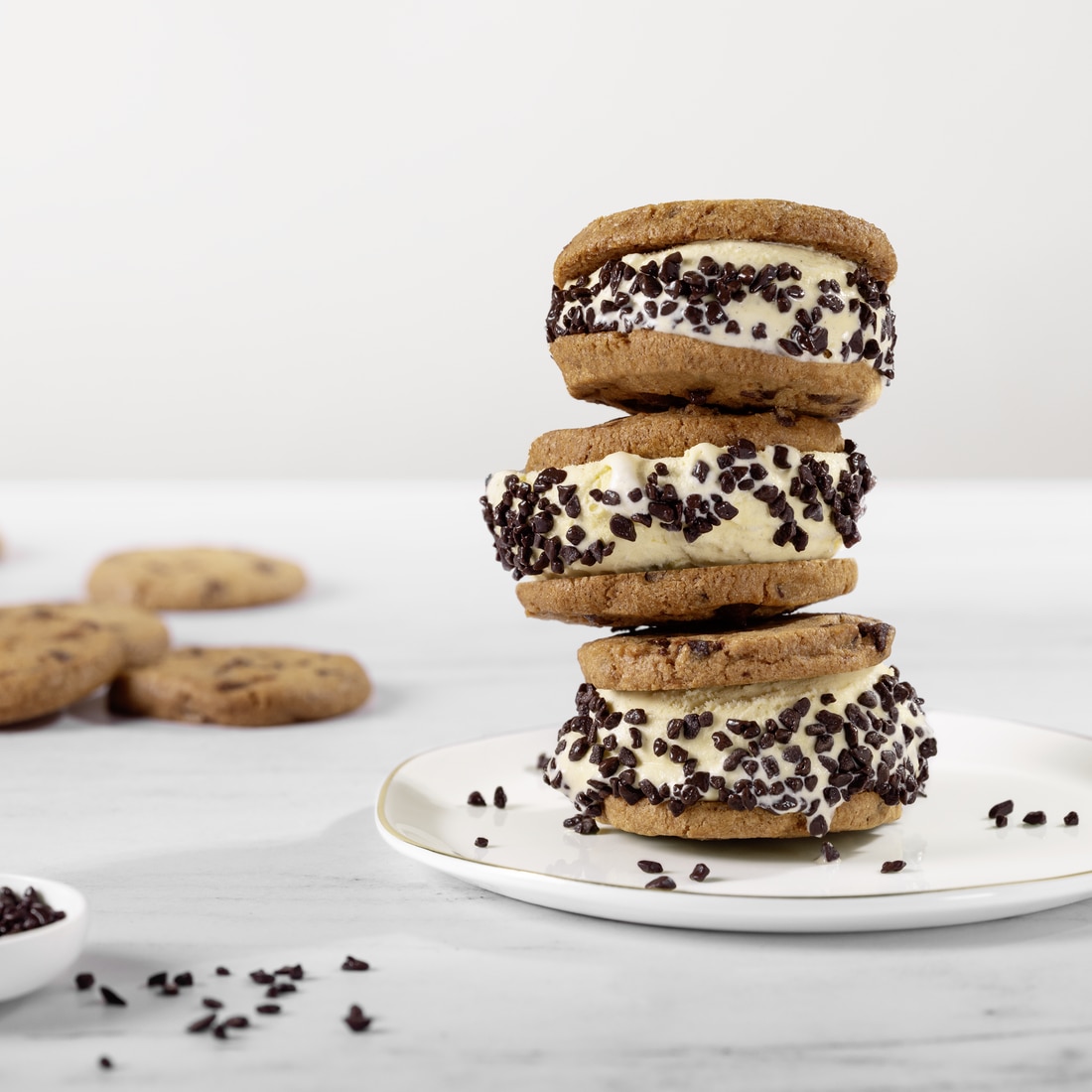 Cookie Ice Cream Sandwiches
Chocolate-chip cookie vanilla ice cream sandwiches, with Carte D'Or Madagascan Vanilla ice cream.
Ingredients
140 g butter
100 g light brown sugar
100 g sugar
1 egg
210 g flour
pinch of salt
1/2 tsp ground cinnamon
3/4 tsp baking soda
120 g dark chocolate chips
12 scoops Carte D'or Madagascan Vanilla Ice Cream Dessert
Optional: dark chocolate cut into small pieces
How to make
In the bowl of an electric mixer, cream together the butter, light brown sugar, sugar, and vanilla sugar for a couple of minutes.

Add the egg, flour, cinnamon, salt, and baking soda. Mix until just combined.

Stir in the chocolate chips.

Form the dough into a roll about 5cm in diameter and wrap it in foil.

Chill the dough in the refrigerator for at least 1.5 hours.

Preheat the oven to 170 degrees Celsius and line a baking tray with baking paper.

Remove the dough from the refrigerator and slice it into 1cm thick rounds.

Place the cookies on the prepared baking tray, leaving enough space between them.

Bake the cookies for 15 minutes or until golden brown.

Halfway through baking, gently press the cookies with a paper kitchen cloth to flatten them.

Allow the cookies to cool on a wire rack.

To make the ice cream sandwiches, scoop a large scoop of Carte D'Or Madagascan Vanilla ice cream onto one cookie and gently press another cookie on top of the ice cream.

Roll the edges of the ice cream sandwich in the small dark chocolate pieces. Repeat with the remaining cookies and ice cream.

Store the ice cream sandwiches in the freezer or serve them immediately.
Per serving
| Title | Per serving |
| --- | --- |
| Salt (g) | 490.48 kcal |
Delicious Recipes
Apple Tarte Tatin with caramelised Granny Smith apples and Carte D'Or Madagascan Vanilla ice cream.

8

people

Medium

20 min

40 min

Chocolate hazelnut brownies with honeycomb and Carte D'Or Indulgent Chocolate ice cream

14

people

Medium

35 min

25 min

A three-tier chocolate cake with layers of Carte D'Or Madagascan Vanilla ice cream, topped with frozen blackberries.

12

people

Medium

25 min

25 min
servings

people

difficulty

prepTime

cookTime