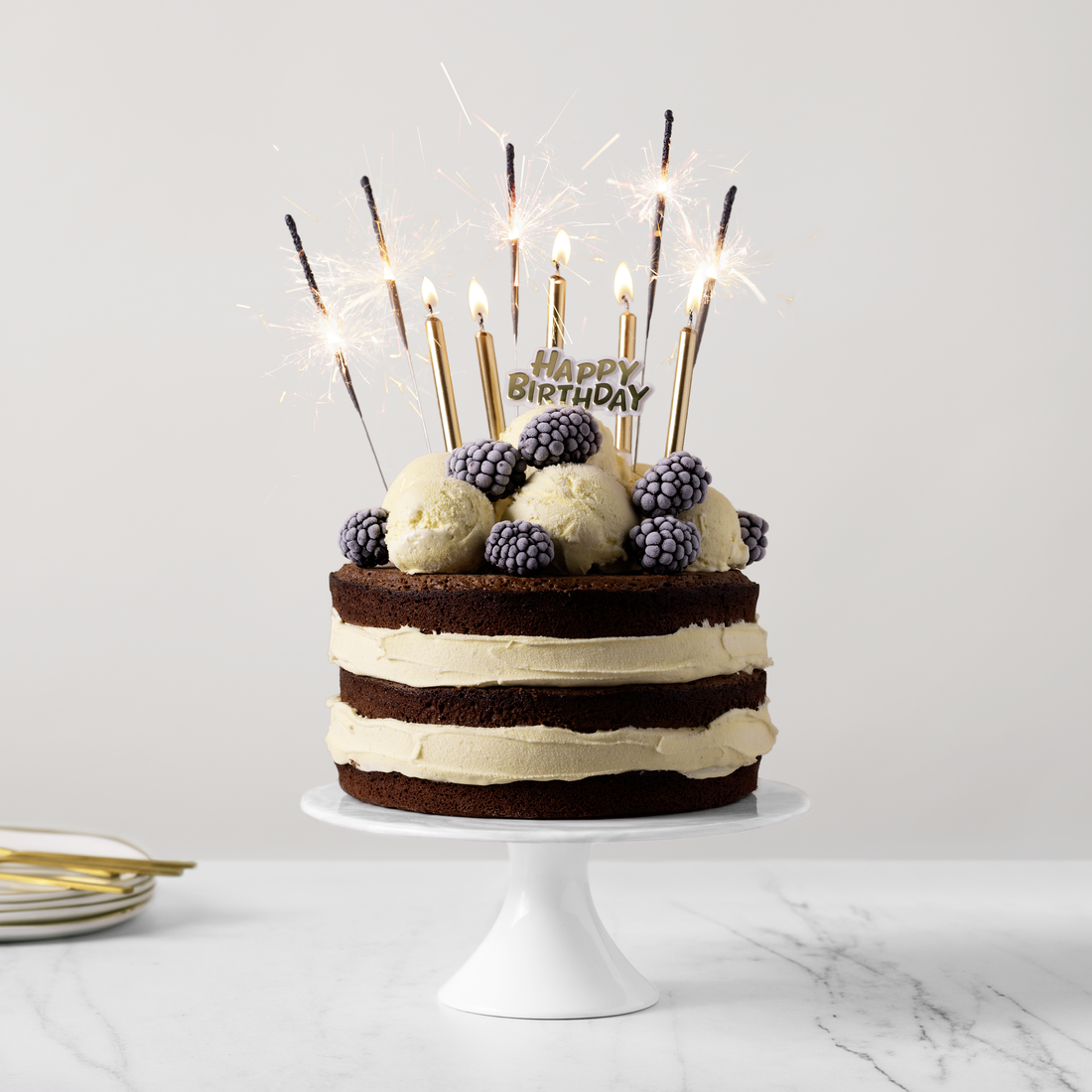 A three-tier chocolate cake with layers of Carte D'Or Madagascan Vanilla ice cream, topped with frozen blackberries.
Ingredients
2 tubs Carte D'or Madagascan Vanilla Ice Cream Dessert
12 frozen blackberries
Sparklers
Candles
225 g soft butter
225 g caster sugar
4 eggs
225 g self-raising flour
50 g cocoa powder
pinch of salt
2 tsp baking powder
1 tsp vanilla extract
How to make
Preheat the oven to 170°C. Grease three 20 cm round cake tins with butter and dust with flour. Line the bottoms with baking paper.

In a large bowl, mix the butter and sugar with an electric mixer for a couple of minutes using the paddle attachment.

Add the eggs, self-raising flour, cocoa powder, salt, vanilla extract, and baking powder. Mix briefly until smooth and well combined.

Divide the cake batter evenly among the three cake tins.

Bake the cakes for 20-25 minutes or until a wooden skewer comes out clean.

Remove the cakes from the oven and let them cool completely on a wire rack.

To assemble the ice cream cake, start with one of the chocolate cake layers.

Divide half a tub of Carte D'Or Madagascan Vanilla ice cream evenly on top of the cake with a spoon.

Gently press another cake layer on top and place the cake in the freezer for 15 minutes.

Add another layer of ice cream on top of the cake and place it back in the freezer for another 15 minutes.

Finish with the third layer of cake and place it in the freezer for 30 minutes.

Before serving, scoop ice cream balls on top of the cake and decorate with frozen blackberries.

Place the sparklers and candles on the cake and light them up.
Per serving
| Title | Per serving |
| --- | --- |
| Salt (g) | 584.22 kcal |
Delicious Recipes
Chocolate hazelnut brownies with honeycomb and Carte D'Or Indulgent Chocolate ice cream

14

people

Medium

35 min

25 min

Chocolate-chip cookie vanilla ice cream sandwiches, with Carte D'Or Madagascan Vanilla ice cream.

12

people

Medium

30 min

15 min

French toast with Carte D'Or Madagascan Vanilla ice cream and a selection of summer berries

2

people

Medium

15 min

10 min
servings

people

difficulty

prepTime

cookTime